Appetizer & Snack Recipes, Breakfast Recipes, Food, Health, Lifestyle, Miscellaneous Recipes, Nutrition
5 Little/No Prep Breakfasts for Back to School!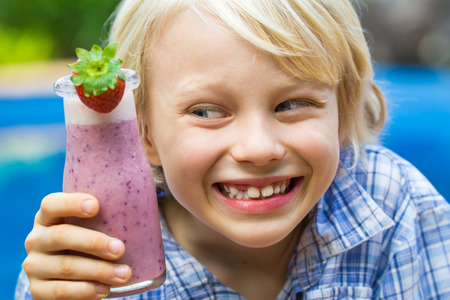 My daughter once said, "I'm so glad to be going back to school. I was getting tired of sleeping in and having fun with my friends."  The art of sarcasm begins early in life.
The end of summer, however, puts us parents in mind of that old Staples' commercial where parents gleefully shop for school supplies, choreographed to the song: 'It's the most wonderful time of the year.'
But this annual reprieve doesn't come without its challenges. Like feeding the young 'uns, while simultaneously dealing with unfinished homework, missing socks and an overall cranky attitude.
Take Some Stress Off with Meal Planning!
So when dealing with breakfast, preparation is key. Anything you can do quickly – or the night before – while providing a tasty and healthy meal works for me. Here are a few kid-friendly options that will have yours out the door in plenty of time for the bus.
5 Little or No Prep Breakfasts for Back to School
1. Greek Yogurt + Your Favourites
Let's start with a few items that have little or no prep time. Like simply spooning some unsweetened Greek yogurt into a bowl, mixing in a little honey along with a handful of chopped nuts. Or taking that yogurt and blending it into a fruit smoothie. Of course, you can keep it simple, or load up on ingredients like berries, spinach, ground flax seed and protein powder.
2. Frozen Fruit Smoothie
My kids prefer healthy "slurp-able" grab & go recipes like this Frozen Fruit Smoothie.
3. Almond Cereal Bars
Some would rather chew than slurp their breakfast, and cereal bars are one of the quickest ways to satisfy them. This recipe for Almond Cereal Bars uses almond butter and honey, along with dried cherries – packing a yummy boost of nutrition.
4. Southwest Breakfast Wrap
If you'd rather go savoury than sweet, try the Southwest Breakfast Wrap. This recipe combines veggies, cheese and eggs, providing a dose of healthy carbs and protein. You can make it the night before and just assemble in the morning.
5. Chocolate Zucchini Muffins
If your kids balk at eating healthy, try deception. These muffins are so chocolatey, they will never know they're also packed with zucchini. Ha! Anytime you can sneak nutritious ingredients into a tasty treat, it's a win for all.
So while enjoying the last few days of summer vacay, keep in mind that even better times are ahead – for you. These breakfast ideas should help ease the kid chaos, and if you make a little extra, will also speed up your morning departure.
How about sending us some of your favourite breakfasts for back to school?
As always, we welcome your questions and feedback. You can leave a comment right here on the site. Or head on over and join in the conversation on Facebook (remember to 'Like' the page) and Twitter.  If you haven't already signed up to receive our weekly news delivered right to your inbox (including the blog, our weekly product feature, signup for our Coterie Program, and our recipe of the week), you will find the signup by clicking here.
Until next time,
Neil