A few words from our Grand Opening in Sharon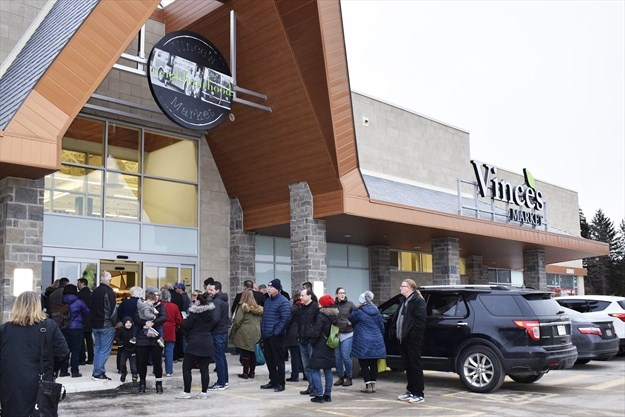 My name is Giancarlo Trimarchi, and I am fortunate to be one of the partners at Vince's Market. I am joined today by my father Carmen, our families, and of course our wonderful team who share in this milestone.
But before I talk about our beautiful new store, it is worth mentioning a little of our history.
In 1956, the Vince brothers came to Sharon to run an open-air fruit and vegetable market from spring until late fall each year, serving the immediate community, as well as the cottage traffic heading up Leslie Street to Lake Simcoe.
The Vince brothers ran the market well for 30 years. Upon Bob Vince's passing, the business was left to his daughter Carol, who ultimately sold it to my father Carmen and his partner Mario Testa.
Since 1986, the business has grown and we've had partnership changes along the way, with Mario exiting after more than 15 years, Brian Johns joining the team during our expansion – also for just over 15 years. And me joining my dad as a managing partner.
All of this was built on our reputation for being the best in fresh produce, as well as our accompanying fresh departments. My father has been hand-selecting fruits and vegetables since 1979 at the Ontario Food Terminal, and with local Ontario farmers. He's still making the trip to the city four to five times per week.
His passion is inspiring. Growing up, I was in awe of my father, as he was the hardest working person I knew, and was great at what he did. That hasn't changed.
Many of my life's fondest childhood and teenage memories were made in the adjacent building, along with many of my fondest adult moments.
So many local kids got their first job here. Lifelong friendships and lifer team members, not to mention long-time customers with whom we look forward to seeing and catching up.
Indeed, our Sharon location is special.
It is a true community grocery store – and there are no longer many like it in Ontario. We thank our customers for their patronage. Without you, we couldn't have made it this far, and Vince's would not have been able to serve Sharon and East Gwillimbury for more than 63 years.
This new building will serve us well for the next stage of our life. And we are so excited about our new offerings – like our stone hearth pizza oven, made-in-store fresh sushi, and extensive prepared foods department with self-serve salad bar, hot bar and soup bar.
Our bakery and deli have expanded, with a focus on local and specialty products you won't find at the other supermarkets.
Our meat department is proud to focus on AAA Aged Angus Ontario Beef, Ontario Pork and value-added products.
Our grocery, deli, and frozen departments are being tailored to this market, and will offer more local and artisan products. I find something new almost daily that becomes an addition to our family meals and snacks.
We also have a spacious, walk-in beer cooler, and a great selection of wine from around the world, as well as locally from Ontario.
All this being said, we are unwavering in our commitment to fresh produce. It remains a core of our business.
Coming in January 2020, we will be providing a community space upstairs, where you can enjoy your purchases – be it a salad, sandwich, pizza slice, or many of our other prepared options. We also look forward to hosting food education seminars, and cooking classes, and will be offering room rentals for your own gatherings.
All of this has been quite a journey, and we wouldn't have arrived here without our team and their amazing dedication. Carmen and I cannot say thank you enough for making sure this new store came together. We are thrilled with the result, and hope you, our customers, will just as thrilled.
We would like to recognize the individuals who lead their departments, and who went above and beyond in making today possible. I am truly thankful for every one of them.
Olimpiya, Wayne, Kaylee, Danny, Mike, Lindsay, Loralee, Pari and Sawyer – these fine folks lead the departments in this location. They are the engine of this store.
Justin, Dan and Angela, who provide specialist support to our fresh departments.
Julia and Jessica, who are our HR team but more than that, they make sure all our programs come together to serve our team – and customers.
Debbie, Nigel and Sabrina – our category managers and management team members – who give so much, and are great leaders and examples for our team.
We had many team members, from other locations, come to support us in the opening preparations.
Thank you to Karen, Bessie, Curtis, Kwang, Neil Moore and Maria for helping out after already working at their other Vince's locations.
We also have our service providers, who are a vital part of the Vince's family.
Neil, from Global Maintenance – a true friend to us personally, and to our business. He is always there when we need him.
Mike and the team at Sign Nation. The store design and signage really bring our space to life. They have done amazing work.
Mike from Level One Telecom. They were the first and last trade to work with us on site. He was here through the entire project, and ensured our store was set up for success.
Thanks to Neelands Refrigeration and Cayuga Displays for their professional service and top-notch equipment. Their teams led by Curt, Ryan and Jason were fantastic.
The Cecchini construction family oversaw the construction. James, our site super, was phenomenal. Alex and Joseph ensured we met our deadlines, and the finished building is one we are proud of. The sub trades that worked inside our building have also become friends as we worked tirelessly during the last several weeks of this project.
I would also like to mention Allan Stone, our architect, and Howard Friedman, our planner.
And thank our partner vendors  – our suppliers – the ones who work with us to bring great products to our stores, and to you and your families.
I would also like to thank some key individuals from the Town of East Gwillimbury. Mayor Virginia Hackson, Mark Valcic, Tom Webster – we appreciate your support in helping us bring a new, modern grocery store to the heart of Sharon, where Vince's has stood since 1956.
Thank you to other special guests who braved this chilly Saturday morning: the entire East Gwillimbury Council, York-Simcoe MP Scot Davidson, industry association leaders like Tom Shurrie, President and CEO of CFIG, and Barry Lantaigne from DCI.
And lastly, I'd like to recognize our families. Not just our immediate family members, but the families of our team. Their love and support in our daily work life is so important for us to feel complete. When our families show their pride in, and support for what we do, the sense of satisfaction in our work is immense.
We look forward to serving all of you in our new Sharon store. Please drop by and see what we've accomplished.
— Giancarlo Trimarchi