Appetizer & Snack Recipes, Blog Recipes, Cheese, Miscellaneous Recipes
All About Cheese: Couldn't Havarti Said It Better!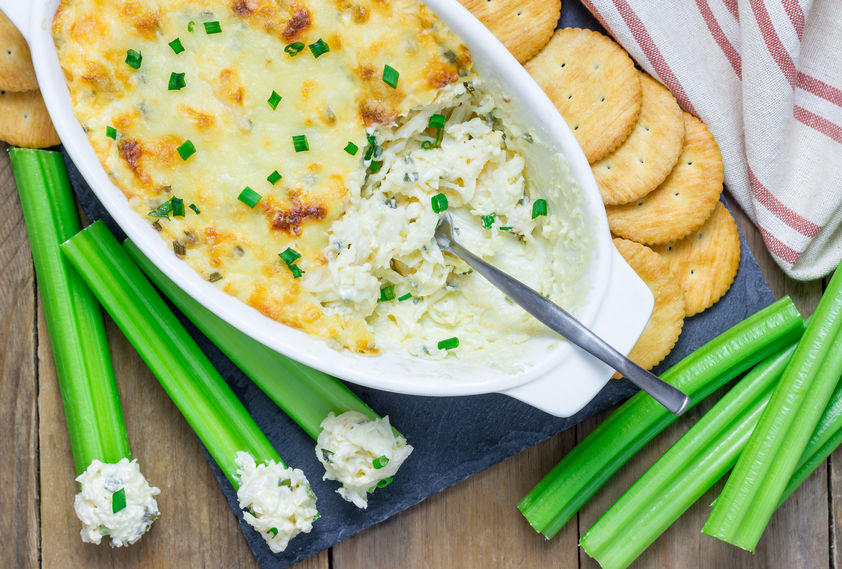 Havarti is made like most cheeses, by introducing rennet to milk in order to cause curdling. The curds are then pressed into cheese molds which are drained, and then the cheese is aged. It's a fairly simple process that still needs a level of finesse and expertise to arrive at the wonderful varietal of cheese at the end.
A Brief History of Havarti
Native to Denmark, Havarti has presented itself as an original take on sliceable cheeses with a creamy body. In the 1800s, Hanne Nielsen, traveled around Europe to learn about cheesemaking. Nielsen's farm was in Havarthigaard, north of Copenhagen, and in 1852, after returning from her travels, she developed the technique to create Havarti, a semi-firm cheese dotted with small holes. The traditional Havarti developed by Nielsen was often made in small batches and has a fuller, deeper flavour. Over the years, the recipe has been adapted and what is commercially produced now is a cream Havarti as cheesemakers utilize high-pasteurized milk in its manufacture.
Havarti is a washed-curd cheese, which contributes to its subtle flavour, as well as an interior-ripened cheese that is rindless, smooth, and slightly bright-surfaced with a cream to yellow colour depending on type. It has very small and irregular openings, called eyes, distributed throughout. Lusciously smooth, Havarti is balanced and mild enough to suit all palates, with the piquant flavors harmonizing perfectly in salads or on sandwiches as well as on its own or as part of a cheeseboard.
Havarti has a buttery aroma and can be somewhat sharp in the stronger varieties. Its taste, like its aroma, is buttery, from somewhat sweet to very sweet, and it is slightly acidic. It is typically aged about three months, though when the cheese is older, it becomes saltier and develops hazelnut notes. When left at room temperature, Havarti tends to soften quickly.
There are many flavoured variants of Havarti available including cranberry, garlic, caraway, dill, basil, coconut, sour cream, chives, bacon, red pepper, and jalapeño. While Vince's Market doesn't offer them all, we do have most of them!
Looking to try a few non-traditional Havarti recipes?
Southern Pork Cordon Bleu
INGREDIENTS
4 New York pork chops (thick-cut boneless, top loin)
2 1/2 cups panko breadcrumbs
1 1/2 teaspoons salt
1 eggs
1 tablespoon water
4 slices ham
4 slices havarti cheese
4 tablespoons honey dijon mustard
oil (for frying)
DIRECTIONS
Preheat oven to 350 degrees F. Slice each pork chop in half as though to butterfly the meat, leaving the fatty end intact. Combine breadcrumbs and salt in a shallow bowl and set aside. Beat egg and water in a shallow bowl and set aside.
Place 1 slice of cheese on top of a slice of ham and top with 1 tablespoon of mustard. Stuff inside of pork chop and crimp edges of meat using your fingers.
Dip in egg and coat with breadcrumbs. Repeat with remaining ingredients.
Fry each chop for 3-4 minutes until golden brown, flipping over halfway. Remove from oil and drain on paper towels.
Bake for 15 minutes or until meat thermometer registers the internal temperature of the pork to be between 145—160 degrees F.
Allow to rest for 3 minutes before serving.
Crab & Artichoke Dip
INGREDIENTS
3 cups fresh baby spinach
1 can (14 ounces) water-packed artichoke hearts, rinsed, drained and chopped
1 package (8 ounces) cream cheese, softened
2 cups shredded Havarti cheese
1 can (6 ounces) lump crabmeat, drained
1/2 cup sour cream
1/8 teaspoon salt
1/8 teaspoon pepper
Assorted crackers
DIRECTIONS
In a large saucepan, bring 1/2 in. of water to a boil. Add spinach; cover and boil for 3-5 minutes or until wilted. Drain.
In a 1-1/2-qt. slow cooker, combine the artichokes, cheeses, crabmeat, sour cream, salt, pepper and spinach. Cover and cook on low for 2-3 hours or until cheeses are melted. Serve with crackers.
Havarti Macaroni & Cheese
INGREDIENTS
2 cups uncooked elbow macaroni
2 tablespoons butter
2 tablespoons all-purpose flour
1 teaspoon salt
1 tablespoon grated or very finely chopped onion
2 cups milk
2 cups shredded Havarti cheese (any variety will do but if you'd like to amp up the flavour, try the dill variety)
1 tablespoon chopped fresh dill weed (optional)
DIRECTIONS
Cook and drain macaroni as directed on package.
In 10-inch skillet, melt butter over medium heat. Using whisk, stir in flour, salt and onion. Cook 2 to 3 minutes, or until mixture smells nutty and is lightly golden, stirring constantly with whisk.
Add milk. Continue to beat with whisk, scraping bottom of skillet until mixture heats to boiling. Mixture will thicken. Remove from heat; add cheese. Stir with whisk until smooth. Stir in drained macaroni.
Serve with additional dill weed if desired.
We'd love to hear from you! Do you love Havarti, or have a fantastic recipe to share?? Leave us a comment here or head on over and join in the conversation on Facebook (please 'Like' the page if you're so inclined) and Twitter. If you haven't already signed up to receive our weekly newsletter which includes our blog, the weekly product feature, the weekly Coterie savings, and our recipe of the week delivered right to your inbox, you'll find the signup by clicking here.
Let's catch up soon,
Julie