Appetizer & Snack Recipes, Food, Local Produce, Snacks
An Apple-Cation with Vince's Market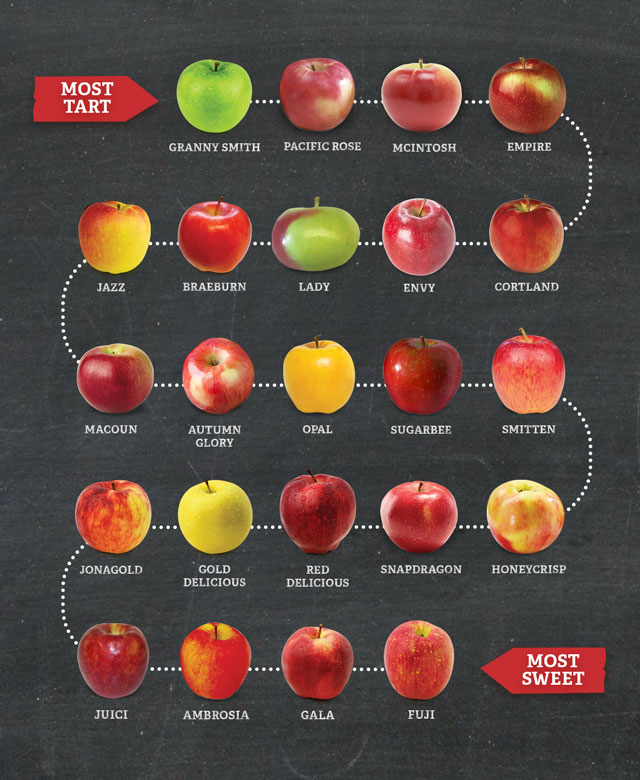 Apple season at Vince's Market has begun! From the bins outside, to the varieties in-store, we  currently have many favourites in stock and a few you may not have tried yet. Let's break down a few of the Ontario varieties and embark on a little journey around the orchard!
Cortland Apples
Cortland apples are widely grown in Quebec and Ontario and have proven themselves to be well-suited to the freezing temperatures experienced around the Great Lakes. As with all McIntosh varieties, Cortland is at its best when eaten soon after being picked. The sweet flavour fades quickly, as does its crispness. An interesting characteristic of Cortland is that the flesh does not go brown very rapidly after being cut. They're a terrific baking apple for pies, crisps, or cobblers but also work great in salads or on cheese plates.
McIntosh Apples
The McIntosh apple is a small to medium-sized round fruit with a short stem. It has a red and green skin that is thick, tender, and easy to peel. Its white flesh, sometimes tinged with green or pink, is juicy, tender, and firm, but can soon become soft and bruises easily. The fruit is considered "all-purpose", suitable both for eating raw and for cooking. It is primarily used in desserts and requires less time to cook than most cultivars.
Paula Red Apples
Paula Red apples are bright red with some yellow and tan spots; the skin often has a dusty sheen. Their flavor is both sweet and tart with a slight strawberry sweetness that can be detected. It has a firm white flesh that becomes soft and mealy extremely quickly as its season declines. Paula Red apples are suitable for both eating fresh and cooking, although they become extremely soft when cooked, which suits them better to applesauce over including them in a pie.
Jubilee Apples
The Jubilee is a relatively obscure apple, yet very interesting because it unites two of the great apple families, McIntosh and Grimes Golden/Golden Delicious. It is grown commercially on a small scale in France and Canada. The flavor of the Jubilee apple is sweet, like its McIntosh parent, but its skin is flushed red over greenish yellow. When freshly picked Jubilee is crisp with a well-balanced flavour, but the crispness is lost in storage and the flavour decays, very much like other McIntosh cultivar apples.
Zestar Apples
Also known as the Minnewashta, the Zestar apple tends to be round and tastes crispy and light. About 60-80% of the apple's skin turns a deep red hue as a result of exposure to sunlight during maturation, the remaining areas of the skin stay a yellow or greenish color. The apple tastes sweet and tangy, with accents of brown sugar, and is known for its unique flavor. The apple can be used for fresh eating, and for use in a variety of baked goods, sauces, desserts, and salads. The apple is praised for its shelf life and can be stored up for two months with or without refrigeration. The apple's flavors are known to intensify when kept at room temperature.
Northern Spy Apples
The Northern Spy apple's skin color is green, flushed with red stripes where not shaded. The white flesh is juicy, crisp and mildly sweet with a rich, aromatic slightly sour, slightly acidic flavor, noted for high its Vitamin C content. Its characteristic flavor is tarter than most popular varieties, and its flesh is harder or crunchier than most, with a thin skin. Spy apples are commonly used for desserts and pies, as well as juice and cider. It is an excellent apple for storage, tending to last long due to late maturation.
Gala Apples
A great choice for snacking, Gala is a variety developed in New Zealand. It's got the mild flavor that "picky eaters" prefer, plus a striking bright yellow-red color that also makes it visually appealing. They are mild, with a sweet flavour, and juicy with a crisp, creamy yellow flesh. Gala apples are excellent for eating and salads and their mellow flavour and thin skin make them the perfect choice for school lunches and snacks for kids.
Not sure what to do with all the apples you're going to buy? A great way to prepare them for longer storage is to freeze them. All you need to do is remove the core and slice them (if you want to peel them first, that's completely up to you), and put them on a baking tray in a single layer to freeze flat. Once they're frozen, transfer them to your preferred storage container and pull out what you need when you need it. It's super easy and means you always have apple slices on hand for a warm apple pie or crisp, or to make applesauce with.
Should you want to enjoy your apples right away, consider making this:
Apple Pie Baked Apples
INGREDIENTS
3 Granny Smith apples
3 pink lady apples
1 tbsp. warm water
2 tsp. cornstarch
2 tbsp. butter
Juice from 1/2 a lemon
1 tsp. cinnamon, plus more for sprinkling
1/3 c. granulated sugar, plus more for sprinkling
1 refrigerated pie crust
1 large egg beaten with 1 tbsp. milk (egg wash)
Caramel, for drizzling
DIRECTIONS
Preheat oven to 375°F. Peel and dice one green and one red apple. Slice off tops and, using a melon baller, hollow out the remaining apples. Set aside.
In a small bowl, whisk together warm water and cornstarch.
In a small saucepan over medium heat, melt butter. Add diced apples, lemon juice, cinnamon, and sugar. Bring to a simmer and cook until apples are tender, about 5 minutes. Add in cornstarch mixture and cook 5 minutes more.
Place hollowed out apples in a baking dish and fill with cooked apple mixture.
On a piece of wax paper, roll out pie dough and cut into 4 circles. Slice each circle into thin strips. Make a lattice top on each apple, trimming any excess.
Brush crust with egg wash and sprinkle with more cinnamon sugar. Bake until apples are tender, and the crust is golden, about 28 to 30 minutes.
Drizzle with caramel before serving.
We'd love to hear from you! Do you have any special apple recipes to share, or have a favourite apple??
Leave us a comment here or head on over and join in the conversation on Facebook (please 'Like' the page if you're so inclined) and Twitter. If you haven't already signed up to receive our weekly newsletter which includes our blog, the weekly product feature, the weekly Coterie savings, and our recipe of the week delivered right to your inbox, you'll find the signup by clicking here.
Let's catch up soon,
Julie