Danielle, Food, General, Nutrition with Danielle, Power Up Approved, Power Up Program, PowerUp
Barley and Asparagus Salad Recipe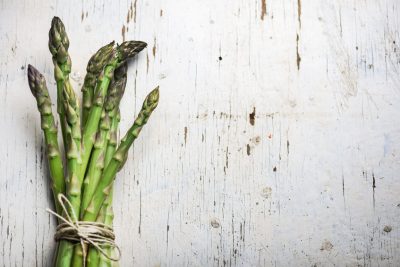 I love that we are entering into the summer season of plenty of local fruits and vegetables! Asparagus is one of my favourite vegetables. It's versatile and particularly nutritious at this time of year. Asparagus has a unique mineral profile that makes it an effective natural diuretic, which promotes detoxification and cleansing. It also contains an abundance of folate, which is great for expecting mommas.
There are plenty of delicious ways to prepare asparagus. I usually prefer them grilled but I have been quite enjoying them raw in salads especially when they are in season and extra tender. This salad is great for a crowd and refreshing for an outdoor party.
Barley and Asparagus Salad
1 cup uncooked barley
1/3 cup olive oil
2 tbsp red wine vinegar
Zest and juice of 1/2 lemon
1 tbsp dijon mustard
1 clove garlic, minced
Salt and freshly ground black pepper
1 lb. asparagus, ends trimmed, thinly sliced
1/4 cup each chopped or torn pasley, basil, chive and mint
4 oz crumbled goat cheese
1/3 cup roasted almonds, chopped or slivered
What to Do:
To prepare barley: Bring 1 cup barley and 2 ½ cups water to a boil. Reduce heat to a simmer and cook covered until tender and most of the liquid has been absorbed. Approximately 40-50 minutes.
Prepare dressing ingredients by whisking together olive oil, vinegar, lemon zest and juice, mustard, garlic and salt and pepper to taste.
Add thinly sliced asparagus, herbs, cheese and almonds to the barley. Drizzle with dressing and toss. Season with additional salt and pepper, if needed. Serve immediately or chill for later.
Here are a few other ways you can enjoy asparagus this season:
Shaved– use a vegetable peeler to create asparagus noodles and sauté with olive oil and garlic for a delicious side dish.
Shake & Bake– place asparagus in a zip lock bag, drizzle with olive oil, add bread crumbs, parmesan cheese, salt and pepper then bake in the oven at 400F until cripsy!
Cheese and Crackers– spread a soft cheese like brie or goat cheese on a cracker and top with a crisp asparagus head for a pleasing appetizer or yummy snack.
What is your favourite way to prepare asparagus? Or what are some of your favourite summer salad recipes? I would love to hear from you in the comments below.
Our Vince's Power Up Program Mission is simply to educate our customers on the importance of using  food as fuel.  For all your Power Up news make sure you check out Vince's Facebook, Instagram, and Twitter.  Also make sure to follow @VincesMarket and #powerupwithvinces, sign up for our Power Up Newsletter and keep an eye out for more nutrition tips and tricks.
Danielle