Put Together a Creative Craft Mix for the Canada Day Long Weekend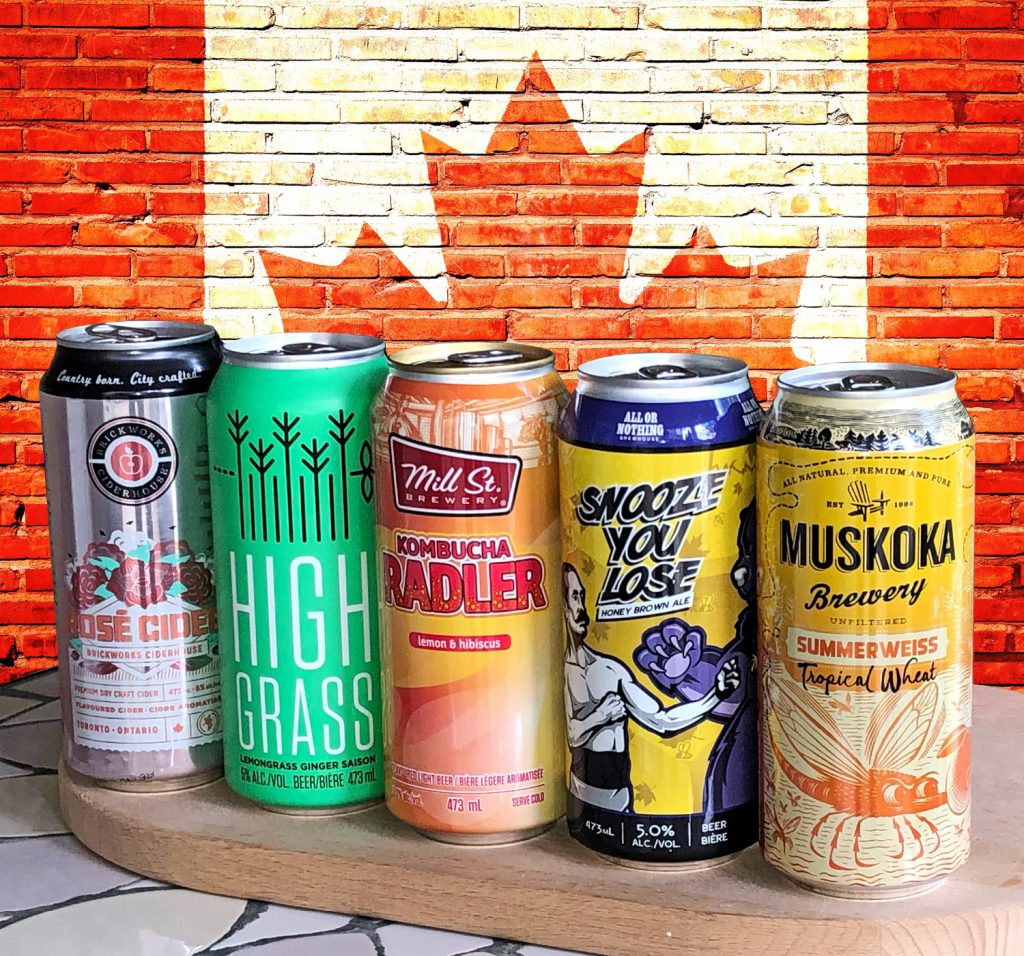 We're a week into summer, with today being a big day for grabbing last-minute items for the Canada Day long weekend. My wife has already done the major shop – you know, the staples that will keep our family fueled over the next three days.
I've been given the responsibility of picking up a few craft beverages, which is one I take seriously. You may think it's difficult to muck this up, but trust me, guests will appreciate your putting a little thought into this purchase, and providing them something interesting to sip.
Ontario Craft Beverages
On that note, I did a little research of my own, and found this slate of Ontario-brewed bevvies to be anything but dull.
Let's start with Muskoka Brewery's Summerweiss Tropical Wheat. It's naturally hazy, but this seasonally-brewed beer pops with just the right notes of mango and passion fruit to compliment its pleasant wheat flavour. Not overly carbonated and slightly dry, Summerweiss is good with burgers, mild cheeses and smoked salmon.
Or for something a little more unusual, try High Grass saison from Second Wedge Brewing Co. It is brewed with all-natural lemongrass and whole ginger root, hand sliced at their Uxbridge location. It's not as gingery as ginger beer, but is subtle, light and refreshing.
Oshawa-based All or Nothing Brewhouse offers a brown ale that, like its other beers, sources most of its ingredients locally. "Snooze You Lose" is a medium-body brew with caramel malt and Ontario wildflower honey, delivering notes of chocolate, caramel, coffee, and of course, honey. It pairs nicely with barbecued meats, and is equally delightful on its own.
Cider is Always A Good Option
For those seeking an alternative to beer, cider is always an option – and Brickworks Ciderhouse Rose Cider tastes as unique as it sounds. It blends apple cider with juice from blueberries and raspberries, finished with a touch of honey. Fruity and subtly sweet, yet still dry, it pairs nicely with snacks and is a great summer sipper.
Also off the beaten path is Mill Street Brewery's Kombucha Radler. Kombucha may be trendy – and I like it – but even if you don't, this radler's combination of organic beer and kombucha with lemon juice, jasmine tea and organic hibiscus won't disappoint. The flavours of black and green tea (from the kombucha) come through, and are balanced nicely by the lemon and floral hibiscus. Crisp and refreshing, it is best served ice cold.
With so many diverse craft beverages produced and available here in Ontario, now is the time to reconsider that same old "two-four" week after week. Try something new – like a few of these options – and let us know what you think.
Let's Connect
We'd love to hear from you! How will you celebrate this Canada Day?? Leave us a comment here or head on over and join in the conversation on Facebook (please 'Like' the page if you're so inclined) and Twitter. If you haven't already signed up to receive our weekly newsletter which includes our blog, the weekly product feature, the weekly Coterie savings, and our recipe of the week delivered right to your inbox, you'll find the signup by clicking here.
Happy Canada Day everybody!
–Neil