Angus Beef, Local, Meat, Ontario Reserve Angus Beef
Farming Families Meet High Standards for Ontario Reserve Angus Beef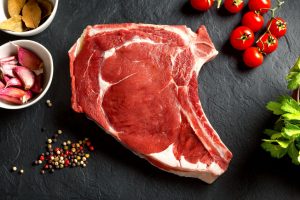 Last week we introduced a blog series on our Ontario Reserve Angus Beef – a program we launched roughly a year ago, and has been receiving plenty of positive feedback from our customers.
In this week's blog, we'd like to dive even more deeply into the standards and the process that takes our beef from farm to fork.
"Representing the local families who work hard to raise high-quality cattle on Ontario family farms, we are proud to partner with Vince's Market to bring you Ontario Reserve Angus Beef," said John Baker, director of business development for Ontario Cattle Feeders Association (OCFA). "All cattle raised for Vince's are certified under the OCFA on-farm Quality Assurance Program, an integrated food safety and quality management program."
Baker explains that registered farmers follow defined protocols, which use best practices in all areas of cattle production, as well as a nutritionally-balanced feed program. All farms are audited to ensure compliance with the program.
Ontario's beef farming families are passionate about caring for their animals, as well as the natural environment. Many of these beef cattle farms have been in operation for multiple generations, and they are aligned with the industry's goal of maintaining a sustainable beef industry in this province. Sustainable cattle production requires farmers to consider economic, environmental, and social aspects.
Environmental Farm Plans are encouraged. These are assessments prepared by cattle farmers to increase their environmental awareness in up to 23 areas on the farm. Ontario farmers also follow federal and provincial laws and regulations to ensure their operations contribute to sustaining the environment
"A key focus of the Quality Assurance program is animal welfare," added Baker, "which is essential to producing high-quality beef. It is also important to many customers."
To enhance animal health and productivity, farmers design barns that consider their instincts and behaviours. Cattle have full time access to water, food and bedding. Most barns have curtains that can be raised or lowered to ensure cattle are kept comfortable in all weather.
Farmers in the QA program work closely with their veterinarians to manage cattle in a way that minimizes illness or injury, and ensures they are healthy and well cared for. This is also an important responsibility.
Following grazing on open pastures, cattle are transitioned to a finishing diet consisting of corn and other plant-based ingredients. Farmers in the QA program work closely with animal nutritionists to ensure the feed is nutritionally balanced to meet program requirements, and provide all the necessary nutrients for each animal.
"These farming families are proud to be your neighbours, part of the community, and valuable contributors to Ontario's economy," said Baker. "They have one thing in common – they're passionate about raising cattle and taking care of the land to provide safe, healthy and delicious beef products for your family and ours."
"It takes time and effort to produce a consistently great tasting product," added Giancarlo Trimarchi, partner at Vince's Market. "That effort has been made by all involved in the production of Vince's Ontario Reserve Angus Beef, and we are sure that you will appreciate the results."