Dessert & Misc Recipes, Entertainment, Food, Vince's Own
Cap Off Summer Celebrations with Great Desserts
Ending Your Meal Right
Backyard barbecues aren't just about the meat. As much as I'm a fan of the grill, it's the other items – veggies, salads, etc. – that add interest and colour to the plate. All of which is capped off by a good dessert – or a selection of desserts.
Think about it. Would you end a fine meal of ribeye steak, baked potato, grilled asparagus and peppers, with a factory-made bag of cookies or a cellophane-wrapped pastry? I hope the answer is 'no', and to raise the bar on desserts for your next backyard party, drop by our bakery department for a few ideas.
Vince's Own Desserts
"We have no shortage of special items behind the bakery counter – like artisan tarts and cakes from Dufflet and La Rocca," said Giancarlo Trimarchi, partner at Vince's Market. "And of course, we have our own baked goods as well."
He noted that the current trend is "less is more."
"Vince's Own brownies, eclairs, and fruit-topped mini cheesecakes are among the choices, giving you a really good assortment so that people can create their own mix-and-match tray – and let guests enjoy a variety of items," he continued. "With single-serve desserts, people can try a little bit of everything."
Full-size cakes are becoming less popular, with six-inch, and even four-inch cakes (which serve 2 or 3 people) becoming the 'go to' for entertaining.
And with smaller dimensions come choices that are less heavy on the palate. "This summer we are seeing lighter, seasonal flavours like raspberry mousse and lemon curd from LaRocca, or their 'Summer Hits' cake with vanilla sponge, lemon mousse, and white chocolate ganache-coated almond meringue. You've got to try it!"
From Vince's Own, strawberry shortcake is popular in summer, as is mixed-berry shortcake. And of course, there are the traditional celebration cakes we can design and customize. You can order online or speak with one of the bakery team – just give a minimum of three business days notice.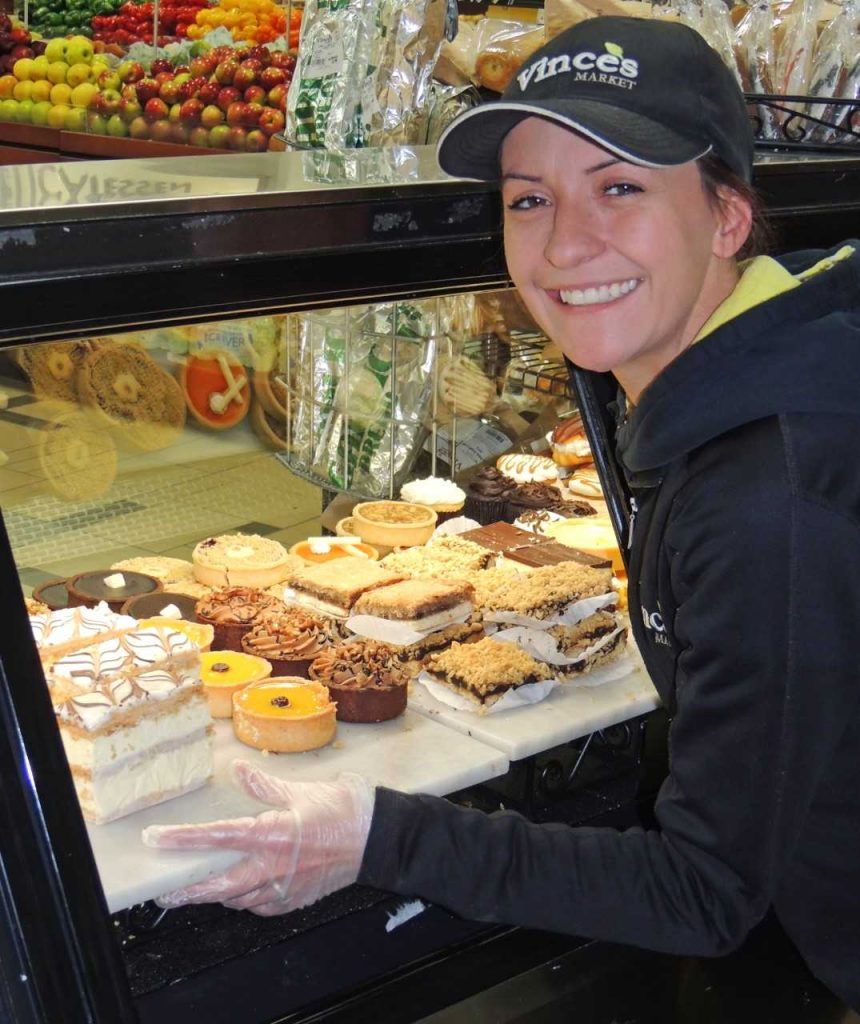 "A quick shout out to Angela Valin," said Giancarlo. "She's back, and is now our bakery merchandising manager. Angela has been with us for 17 years, and will be working with our bakery team to bring in exciting products."
"Let's us know which desserts you'd like to see in our stores."
Let's Connect
We'd love to hear from you! Do you have a special summer dessert recipe you'd like to share?? Leave us a comment here or head on over and join in the conversation on Facebook (please 'Like' the page if you're so inclined) and Twitter. If you haven't already signed up to receive our weekly newsletter which includes our blog, the weekly product feature, the weekly Coterie savings, and our recipe of the week delivered right to your inbox, you'll find the signup by clicking here.
— Neil