Fruit, Recipes, Seasonal Produce
Have You Ever Tried: Blood Oranges?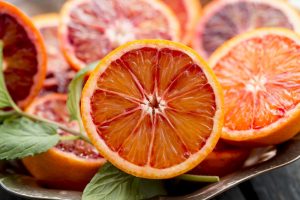 While working during the Covid-19 Pandemic, I've been thinking a lot about the type of posts I've been drawn to reading after looking for my coronavirus updates. While quarantine haircuts aren't topical to Vince's Market, many of the fruit slicing and cooking videos are a much better fit. I've seen clips of fruits I'd never even known existed and that made me wonder how many people have tried some of the more unique produce as well as other items we carry in store.
That brought me to my next series of blog topics… Have You Ever Tried?
Today, I want to talk about Blood Oranges—one of my absolute favourites!
What is a Blood Orange?
The blood orange is a natural mutation of the orange, which is harvested in the winter. It's a variety of orange, species Citrus × sinensis, featuring crimson flesh that's almost the colour of blood. The distinctive dark flesh color is due to the presence of anthocyanins, a family of polyphenol pigments common to many flowers and fruit, but uncommon in citrus fruits. The main anthocyanin in red oranges is Chrysanthemin.
The flesh develops its characteristic maroon color as the fruit develops during low temperatures at night; in fact, this anthocyanin in climates that experience warm days and cooler nights. As the anthocyanin pigments of blood oranges begin accumulating in the vesicles at the edges of the segments, and at the blossom end of the fruit, they continue accumulating in cold storage after harvest. Sometimes, the dark coloring develops on the rind as well, but that depends on the variety of blood orange. The skin can be tougher and harder to peel but the extra work is worth it.
Are There Different Kinds of Blood Oranges?
There are several varieties of blood oranges; the most famous is the Sicilian red orange, which is grown only in Sicily. Other common varieties include:
Moro—a deeply red-colored and slightly bitter orange
Ruby—which, despite its name, often isn't very red inside
Sanguinello—popular in Spain, is a sweet orange with red streaks and few seeds
Tarocco—extremely sweet and easy to peel, but with unreliable red flesh.
Other varieties include Burris, Delfino, Khanpur, Red Valencia, Sanguina Doble Fina, Washington Sanguine, and Vaccaro.
Chances are you won't find a choice between different varietals at the market, so the marginal differences between them isn't something to get hung up on. It is good to know that some varieties are simply less likely to be all that red on the chance you were looking for that vibrant colour for a showstopping dish.
Benefits of Blood Oranges
Eating more fruits and vegetables is a good thing for everyone but Blood Oranges have a few specific benefits that may be attractive to those looking for a little something extra.
Blood oranges:
Are rich in Vitamin C (only you can prevent Scurvy!)
Are rich in Antioxidants (those brilliant free-radical fighters!)
Possess anti-inflammatory properties that fight chronic inflammation
Contain Folate for pre-natal support
Contain Beta-Carotene for healthy skin
Are rich in Vitamin A, helping to maintain the health of the skin and some tissues
Are rich in Calcium which helps build strong bones and teeth)
There are a few things to watch out for though…
Blood Oranges may increase blood pressure due to there high levels of potassium that can counteract beta-blockers
Blood Oranges may worsen acid reflux disease as they are highly acidic
Is the Taste Really Different?
Blood oranges have a unique flavor compared to other oranges, being distinctly raspberry-like in addition to the usual citrus notes. When juiced, some blood oranges may be tart, while other kinds are sweet while retaining the characteristic blood orange taste.
They are one of my favourite varietals of oranges, the raspberry flavour adding a nice berry component to the citrus. The fruit can be eaten as is, juiced, or used in baked goods, cocktails, salads, or other dishes that call for oranges. They are delicious and I highly recommend trying them while they're in season.
Recipe Time!!
Blood Orange Compote
Blood Orange compote can be used as a topping for yogurt, ricotta, or ice cream
INGREDIENTS:
2 tablespoons thinly sliced blood or navel orange zest (from 1/2 orange)
2 to 3 blood oranges (peel and pith removed), quartered lengthwise, thinly sliced, and seeded (2 cups)
1/3 cup sugar
Coarse salt
2 tablespoons water
DIRECTIONS:
In a medium saucepan, combine orange zest and slices, sugar, salt, and 2 tablespoons water; bring to a boil over high. Reduce heat to medium, and simmer, stirring occasionally, until oranges collapse, and liquid is syrupy, 12 to 15 minutes.
Cool compote to room temperature.
Glazed Salmon with Blood Orange Salsa
INGREDIENTS:
Salmon
2 wild salmon fillets, with skin or without – your choice
juice of 1 small blood orange
1 blood orange peeled and sliced thick
5 teaspoon grated ginger
crushed dried red pepper or red chili flakes
salt to taste
5 teaspoon + 1 teaspoon brown sugar
2 teaspoons stone ground mustard
1 tablespoon olive oil
Salsa
blood orange, peeled and sliced
scallions, finely chopped
grated ginger
green chili pepper, very finely sliced
fresh cilantro and/or fresh mint, chopped
cumin seeds, crushed (use rolling pin)
salt and sugar to taste
DIRECTIONS:
To make the salsa, combine all ingredients for the salsa. Adjust salt, sugar and the amount of fresh herbs the way you want. Allow it to sit in the refrigerator for a few hours for the flavors to infuse and some of the juice to seep out of the oranges
To cook the fish:

Combine juice, ginger, salt, pepper flakes, mustard and 1 teaspoon brown sugar. Whisk and pour it over the fish fillet, toss well to coat and allow it to sit for an hour. Or refrigerate overnight.
Toss the other 1.5 teaspoon sugar with the orange slices.
Heat oil in a pan large enough to hold the fish and the orange slices in a single layer. Place the fish and cook over moderate heat for about 5 minutes or until the side turns brown and starts to crisp. Flip them over and cook over low heat until the salmon is cooked through and flakes easily with a fork. When you flip the fish, place the oranges slices in the same pan and cook both sides until they caramelize without turning dark brown. The inside should be still juicy and tender.
Serve the fish immediately over the caramelized slices, topped with the blood orange salsa.
We'd love to hear from you! Have you ever tried a Blood Orange? Do you have a favourite Blood Orange Recipe you'd like to share? Leave us a comment here or head over and join in the conversation on Facebook (don't forget to give us a "like") and Twitter.
If you haven't already signed up to receive our weekly newsletter which includes our blog, the weekly product feature, the weekly Coterie savings, and our recipe of the week delivered right to your inbox, you'll find the signup by clicking here.
Stay safe!
Julie