Nexus Coffee Opens at Vince's Uxbridge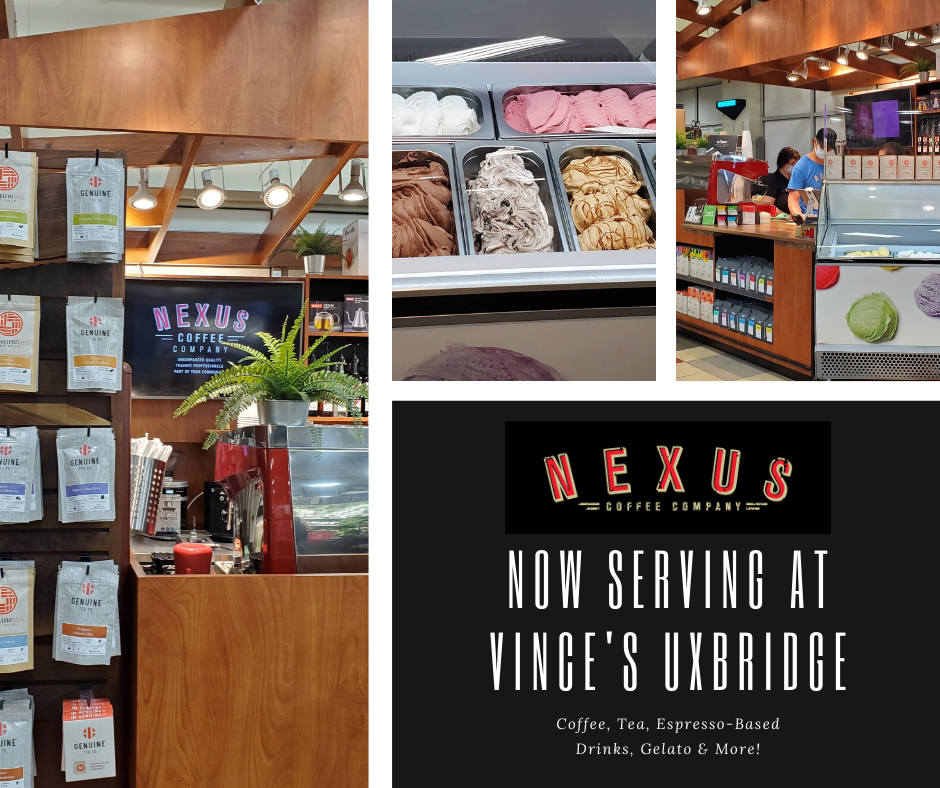 Customers of Vince's Market in Uxbridge have always been able to grab a cup of freshly-brewed coffee as they shop. This has been a great pick-me-up for many as they browse the aisles for produce, staples, and many other fresh products this independent grocer is known for.
But the experience is now receiving an upgrade. Vince's Market is pleased to announce the arrival of Nexus Coffee to their 234 Toronto St. S. Uxbridge store.
Coffee, Tea, Espresso-Based Drinks & More
This artisan purveyor, earning back-to-back wins for Uxbridge's Best Cup of Coffee, has relocated from their original Brock Street location, bringing locally-sourced coffees and teas, along with their high-quality menu and upscale home brewing products.
This includes Pilot Coffee, an award-winning specialty roaster, which will be sold by the cup or by the bag – with whole beans freshly-ground on site. Also on the menu are premium teas from Genuine Tea Co., and hand-made gelato for kids of all ages.
Now Serving G for Gelato Scoops and Tubs
"I'm excited about the lattes, cappuccinos and espresso-based drinks," said Giancarlo Trimarchi, partner at Vince's Market. "But I'm even more keen on the fresh, locally-sourced gelato from Toronto's famous G for Gelato."
Nexus will be offering this decadent, hand-made treat, with plenty of flavours to enjoy while shopping. Or take-home tubs for the family.
A selection of accessories for the coffee connoisseur will also be available. These include Breville espresso machines and milk frothers, Bodum French presses and mugs, pour-over brewing systems, matcha accessories, and so much more. All of which make great gifts.
"We are so proud to partner with another award-winning local business, and once again serve the community of Uxbridge the high quality drinks and treats they've come to expect, since we opened in 2015," said Nexus owner Arthur Field.
"We think Nexus and their team will be a great fit with our business," adds Giancarlo. "This is a win for our customers, and for the local business community. We truly hope you'll enjoy this new perk while shopping at our Uxbridge location."
Neil Moore
Brand Manager, Vince's Market
neil@vincesmarket.com