Angus Beef, Ontario Beef, Ontario Reserve Angus Beef
Ontario Beef Plays a Big Role in Provincial Economy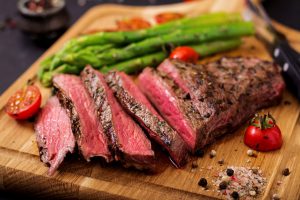 Whether you're picking up a pack of ground beef, a roast, or a couple of steaks, it may seldom cross your mind what impact you are having on the economy.
Lately, there has been much talk about buying local – in particular during this time of COVID-19 restrictions. With so many people (and their incomes) hit hard by the pandemic, it is more important than ever to support those local businesses that keep Ontarians employed.
This includes our farmers.
High Quality Beef Products
Some shoppers only look at the price. Fair enough, but if we pay equal attention to the label, we may have an even greater impact on local commerce – and our eventual economic recovery.
At Vince's, we care about providing high-quality local products. All our fresh beef, turkey, pork, chicken, and lamb are product of Ontario. Roughly a year ago, we announced the Ontario Reserve Angus Beef program. The program states that not only is our beef locally produced, it is held to a higher standard. The beef is hand selected, AAA grade, and aged a minimum 21 days.
It also adheres to a strict quality assurance program that includes a high level of commitment to land stewardship and animal care. You can see last week's blog for more details.
The Beef-Producing Powerhouse That is Ontario
All that being said, local beef is a vital industry in our province. Gross sales from Ontario beef production, processing, and retail exceeds $13 billion annually. This translates into more than 61,000 jobs across many industry sectors. We may not think of Ontario as a beef-producing powerhouse, but these employment figures are significant.
By supporting local beef farmers, you also support Ontario meat processing plants, local Ontario crop farmers, feed mills, veterinarians, and trucking industries, to name a few.
"The beef industry in Ontario is vast and interconnected with many other sectors" said John Baker, Director of the Ontario Beef Market Development program. "We are proud to work with Vince's Market to help bring high quality local food to Ontario consumers."
Ontario processes approximately 650,000 head of cattle annually, representing about 25% of Canada's production. Ontario's beef production accounts for approximately half of the beef consumed in this province. This works out to be about 40 pounds per year for the average Canadian.
The Effects on the Enviornment
What effect does this have on the environment? The greenhouse gas emissions associated with beef production are mitigated by the pastures used for grazing. These grasslands help sequester roughly 1.5 billion tonnes of CO2 in Canada. Canada's beef production system has far fewer emissions than most other countries. This is thanks to production efficiencies and avoiding converting land and forests.
Cattle production in Ontario is also a key contributor to the sustainable energy industry. Byproducts from ethanol production are used in cattle feed, and manure is a valuable source of natural fertilizer for corn crops.
Indeed, this is a robust, yet prudent industry, and we are proud to be playing a role in its best practices. Drop by one of our stores and pick up something nice for your grill. You'll appreciate the difference in our Ontario Reserve Angus beef.
We'd love to hear from you! Have you ever tried our Ontario Reserve Angus beef? Leave us a comment here or head over and join in the conversation on Facebook (don't forget to give us a "like") and Twitter.
If you haven't already signed up to receive our weekly newsletter which includes our blog, the weekly product feature, the weekly Coterie savings, and our recipe of the week delivered right to your inbox, you'll find the signup by clicking here.
Stay safe!
Vince's Market