Pancakes, Pancakes, Pancakes! It's Shrove Tuesday Time!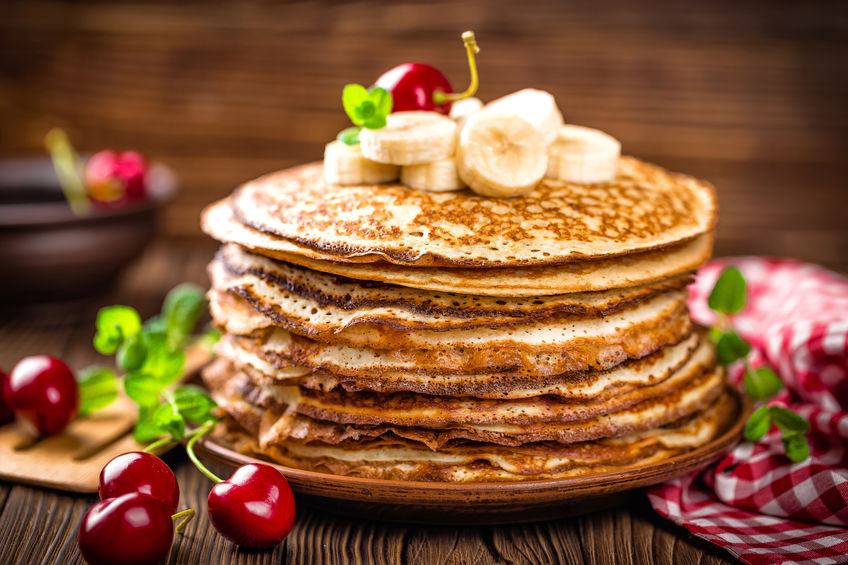 With February 25th coming up quickly, it's time to take a moment to learn the history behind Shrove Tuesday and see what all the fuss is about.
Why 'Shrove' Tuesday?
It comes from the word 'shrive', which means to give absolution after hearing confession. So, Shrove Tuesday is the day when people went to confession to prepare themselves for Lent, which begins on the following day, Ash Wednesday.
Why Pancakes?
It was the last chance for a spot of indulgence before 40 days of fasting, and an opportunity to use up food that couldn't be eaten during Lent. This included eggs, fat, and milk, which were made into pancakes and eaten on that day. The earliest known English recipe dates from the 15th century, although pancakes had been eaten in other countries for centuries before that. In the French-speaking world, the day is known as 'Mardi Gras' or 'Fat Tuesday'.
Maple Syrup Time!
Maple syrup is traditionally used to smother pancakes in a delicious, although sticky, layer. Vince's Market has sourced out some of the best Maple Syrup in Ontario. If you haven't given Trillium Ridge a chance to win over your taste buds, you've got no idea what you're missing.
The Trillium Ridge Sugarworks farm is nestled on a limestone ridge in Shannonville, ON. They've been making excellent maple syrup and sugar there since the 1840's, probably taught to the Irish immigrants by the local Mohawk Indians. Farm tours, farm holidays and scout camping are available if you're planning a visit to the area—I would suggest going when the sap is running to get the best experience!
(Un)usual Additions
Not everyone prefers their pancakes in their simplest form—pancake, butter, and maple syrup. There are a multitude of things you can add to the mix to make them even more delicious like fruit or chocolate chips. One of my favourite combinations is to use mashed banana in the batter and then pour melted peanut butter over the top of the stack. Delicious!
The possibilities are endless, and it all comes down to what you and your family like. Experiment and enjoy!
Fluffy Pancake Recipe
INGREDIENTS
2 cups all purpose flour
1/4 cup granulated sugar or sweetener
4 teaspoons baking powder
1/4 teaspoon baking soda
1/2 teaspoon salt
1 1/2 cups milk (plus up to 1/4 cup extra if needed) NOTE: I use a little club soda and a little less milk to make them extra fluffy
1/4 cup butter, melted
2 teaspoons pure vanilla extract
1 large egg
INSTRUCTIONS
Combine the flour, sugar, baking powder, baking soda, and salt in a large-sized bowl. Make a well in the centre and add the milk, slightly cooled melted butter, vanilla, and the egg.
Use a wire whisk to whisk the wet ingredients together first before slowly folding them into the dry ingredients. Mix until smooth (there may be a couple of lumps but that's okay. The batter will be thick and creamy in consistency. If you find the batter too thick—doesn't pour off the ladle or out of the measuring cup smoothly—fold a couple tablespoons of extra milk into the batter at a time until reaching desired consistency).
Set the batter aside and allow to rest while heating up your pan or griddle.
Heat a nonstick pan or griddle over low-medium heat and wipe over with a little butter to lightly grease pan. Pour ¼ cup of batter onto the pan and spread out gently into a round shape with the back of your ladle or measuring cup.
When the underside is golden and bubbles begin to appear on the surface, flip with a spatula and cook until golden. Repeat with remaining batter.
Serve with honey, maple syrup, fruit, ice cream, or frozen yoghurt, or enjoy plain!
We'd love to hear from you! How do you like your pancakes? Leave us a comment here or head over and join in the conversation on Facebook (don't forget to give us a "like") and Twitter.
If you haven't already signed up to receive our weekly newsletter which includes our blog, the weekly product feature, the weekly Coterie savings, and our recipe of the week delivered right to your inbox, you'll find the signup by clicking here.
Let's catch up soon,
Julie