Appetizer & Snack Recipes, Danielle, Dessert & Misc Recipes, Nutrition, Nutrition with Danielle, Power Up Approved, Power Up Program, PowerUp, Soup & Salad Recipes
Pea and Pancetta Salad and Strawberry Mini Cheesecakes for Father's Day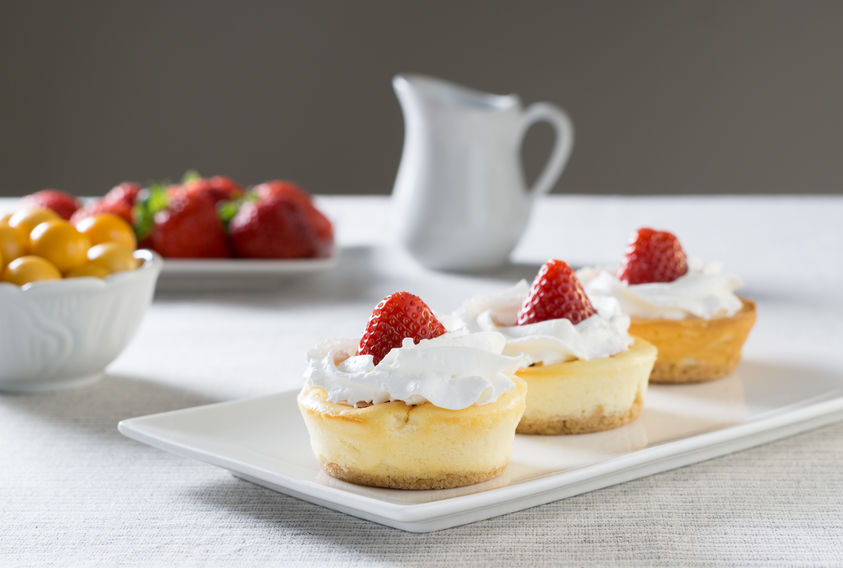 Father's Day is coming up and in my family we like to celebrate with an afternoon by the pool and a delicious meal. Typically we do a grilled meat and then a couple outdoor friendly sides. Grain and vegetable salads are always great because they can handle dressing well even when dressed in advance. Potato salad is usually our go-to but this year we are going to switch it up with a pea and pancetta salad. The fresh mint in this salad is the selling feature for me. It's refreshing and so complimentary to the salty pancetta.
For dessert I'm going to be making these mini strawberry cheesecakes. They are not too heavy or sweet which I love. They also don't leave you feeling stuffed because let's be honest there's always room for dessert. Wishing everyone a Happy Father's Day!
Pea and Pancetta Salad
½ cup fresh mint leaves, thinly sliced
1 small shallot, thinly sliced
1 tsp fresh lemon zest
¼ cup olive oil
1/8 tsp sea salt
¼ tsp ground black pepper
1 lbs. peas
4 oz feta, crumbled
1 ½ oz Pancetta, diced
What To Do:
Shell and blanch the peas. Blanch the peas by placing them in boiling water for 1 ½ min then place into ice water to cool, then drain. In a small skillet, brown the pre diced pancetta until almost crispy, drain on paper towel. In a bowl combine the mint, shallot, lemon zest, olive oil, salt and pepper. Add peas and pancetta, and fold together. Toss in crumbled feta.
Strawberry Mini Cheesecakes
Crust:
1 cup oat flour (1¼ cup rolled oats ground makes 1 cup oat flour)
1/2 cup melted butter
1 tsp cinnamon (optional)
¼ cup sugar
Filling:
16 oz. cream cheese
½ cup Greek yogurt
3/4 tsp vanilla
1 Tbsp lemon juice
2 eggs
1/3 cup sugar
Pinch of salt
2 cups fresh sliced strawberries
What To Do:
Pre heat the oven to 350F.
Mix the oat flour, butter, sugar and cinnamon together and divide evenly into 12 lined muffin tins. With the bottom of a greased glass, press the mixture down firmly to line the bottom of the muffin tin liners. Bake crust for 5 minutes. Remove from oven.
Mix the cream cheese, vanilla and sugar together with a hand mixer and add the eggs one at a time. Continue blending on medium speed until smooth. Pour mixture evenly into the muffin tins. Bake at 350 for 15 minutes or until almost firm in the center. Remove from oven and let cool. Serve with a dollop of whipped cream or Greek yogurt and fresh sliced strawberries.
Let's Connect
What's on your menu for Father's Day? Or what are some of your favourite summer salad recipes? I would love to hear from you in the comments below.
Our Vince's Power Up Program Mission is simply to educate our customers on the importance of using  food as fuel.  For all your Power Up news make sure you check out Vince's Facebook, Instagram, and Twitter.  Also make sure to follow @VincesMarket and #powerupwithvinces, sign up for our Power Up Newsletter and keep an eye out for more nutrition tips and tricks.
Danielle