Power Up Approved Maple Pumpkin Yogurt Dip Recipe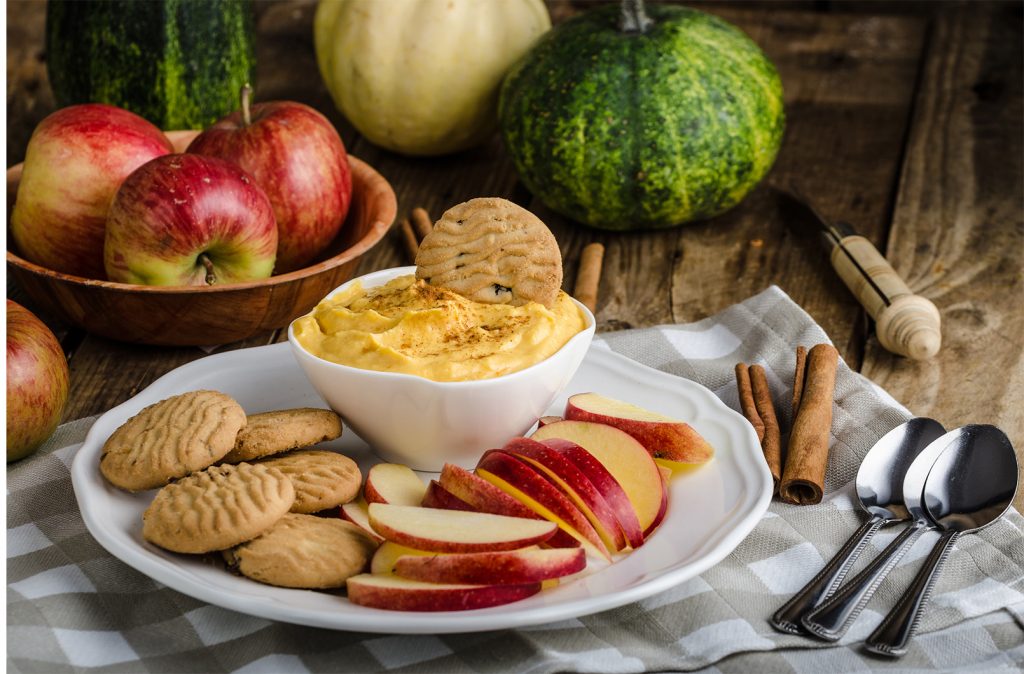 This time of year is all about pumpkin. Pumpkin flavoured everything lines pastry cases, is featured on coffee bar menus, and of course pumpkin is used for fall décor. I do love the flavour of pumpkin but I'm not a fan of the artificial syrup used to sweeten those famous lattes, or products that really don't contain all that much pumpkin at all. A lot of pumpkin flavoured treats contain mostly seasoned filler and although it may just be a treat it can easily get out of hand especially as we head into the holiday season.
When choosing to have anything flavoured it's important to be mindful of the sugar content. A Starbucks grande Pumpkin Spice Latte has 50 grams of sugar in it! That's 50 grams of liquid sugar that will not fill you up. It's especially worse when paired with a tasty sugar filled treat.
In the spirit of real pumpkin flavourings, this festive maple pumpkin yogurt dip will satisfy your pumpkin cravings without the added sugar. Although low fat options are starting to take the back seat, I wanted to reiterate that full fat yogurt is the way to go. The flavour is much better and it gives you the flexibility to add carbohydrate-rich fruits, granolas, and sweeteners. Using yogurt as a dip is a fun way to change things up, especially for the kids. This recipe is also a great lunch box addition or after-school snack.
Maple Pumpkin Yogurt Dip
1 cup plain Greek Yogurt
½ cup canned pumpkin
1 tsp vanilla extract
1/2 tsp cinnamon
2-3 Tbsp maple syrup
Top with chopped almonds, pecans and walnuts (optional)
What To Do:
Combine all ingredients in a small bowl and whisk together.
Serve chilled with fruit, crackers or as a topping to pancakes and waffles.
Makes about 1 cup of maple pumpkin yogurt dip. Dip can be made in advance and stored in the refrigerator.
Here are a few more of my favourite ways to include pumpkin and enjoy the season:
What are some of your favourite healthy pumpkin recipes? I'd love to hear from you in the comments below!
Our Vince's Power Up Program Mission is simply to educate our customers on the importance of using  food as fuel.  For all your Power Up news make sure you check out Vince's Facebook, Instagram, and Twitter.  Also make sure to follow @VincesMarket and #powerupwithvinces, sign up for our Power Up Newsletter and keep an eye out for more nutrition tips and tricks.
Danielle