Power Up One Pot Chili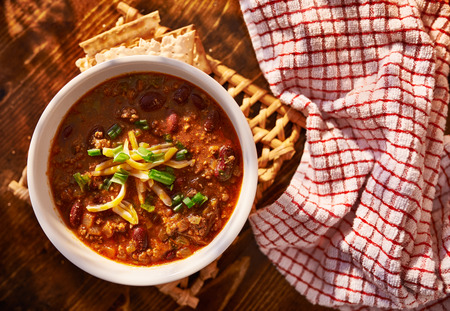 I was looking forward to the time change. Daylight in the morning gives me the energy to get my day going. While I am enjoying the morning light, the drive home in the dark is pretty draining… I guess you can't have it all. Finding the energy to make dinner is a challenge when you feel like you should be getting ready for bed soon. It's funny how daylight can have such an impact on our energy levels. I've found a great one pot chili recipe that's perfect for these chilly evenings!
The Magic of One Pot Meals
One of my dinner solutions to a low energy mood is a one pot meal and this is the perfect time of year for a nice bowl of chili. What's even better than a one pot meal is a dish that's even better as leftovers! This one pot chili is a hearty dish that's simple to throw together, can be made in batches and frozen for those busy nights. You can adjust the heat according to personal preference.
Comfort in a Bowl – Power Up One Pot Chili
2 lbs lean ground beef, turkey or chicken
4 med onions, small dice
2 green peppers, small dice
2 jalapenos, small dice (optional)
1 jar tomato sauce (plain)
2 cans diced tomatoes
2 cloves garlic, chopped
1 ½ Tbsp chili powder
2 tsp salt
2 cans red kidney beans
Makes 10 servings
What to Do:
Sauté onion, peppers and garlic in some olive oil just until softened, remove from pan. Using same pan add meat and brown over high heat. Drain any fat.
Return vegetables to pot with remaining ingredients except beans. Heat until boiling then reduce to a simmer. Cook uncovered for about 1 hr and 15 min.
Add beans in the last 15 min before end of cooking. Remaining chili can be packed in servings then frozen.
Pair it with a Delicious Cornbread Muffin
Since this dish is such a great source of protein a fresh baked cornbread muffin on the side is the perfect compliment. Give this delicious recipe a try: Zucchini & Roasted Cornbread Muffins.
Looking for Even More One Pot Meals?
As I was searching for one pot meal inspiration I came across this list of 53 healthy one pot meals on Greatist. They're all healthy one pot meals, perfect for our busy schedules.  I'm sure something will spark your fancy.
What are some of your favourite one pot meals?
Our Power Up Mission is simply to educate our customers on the importance of using quality food as fuel.  For all your Power Up news make sure you check out Vince's Facebook, Instagram, and Twitter.  Also make sure to follow @VincesMarket and #powerupwithvinces, sign up for our Power Up Newsletter and keep an eye out for nutrition tips and tricks from me, our in-house nutrition expert!
To our health & wellbeing,
Danielle