BBQ, Entertainment, Food, Holiday Recipes, Holidays, Local Produce, Meat, Seasonal Produce, Vince's Own
Red and White: Canada Day Party Ideas!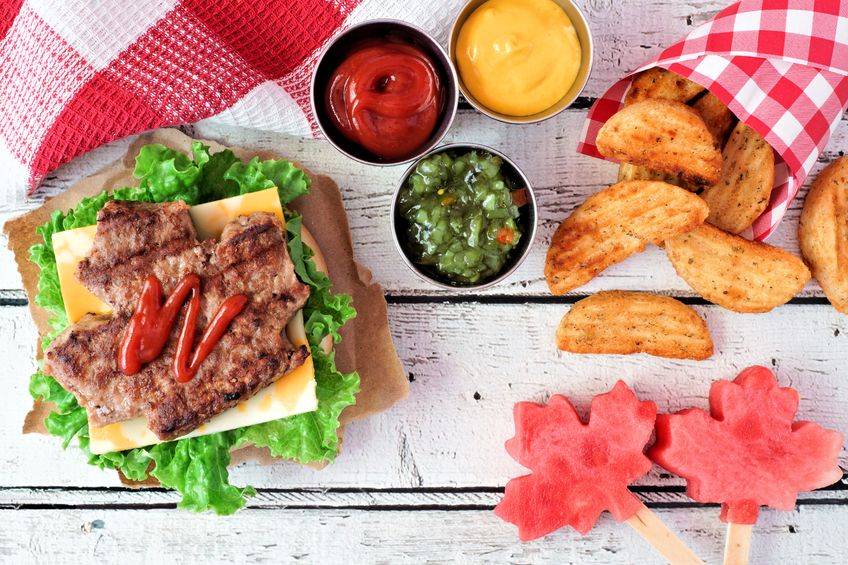 With Canada Day fast approaching, you may be having friends and family over for a BBQ or backyard party. Don't worry if you don't have a plan quite yet, Vince's Market has you covered with a fantastic array of patriotic Canada Day party ideas sure to make your party a hit!
Strawberries: Synonymous with Canada Day!
With Ontario Strawberry season in full swing, Canada Day just isn't the same without them! You can cut them up into salads, serve them on ice cream, make a Strawberry Shortcake, or better yet grill them! If you've never tried a grilled fruit skewer with strawberries and pineapple, you are missing out! Even better, baste them with a little balsamic vinegar as they're grilling for a decadent treat!
Savory Starters!
Looking for something to serve before the main event? Try a delicious spin on a caprese salad—skewer cherry tomatoes, bocconcini, bite sized pieces of crispy bacon (yes, the added bacon is not traditional but delicious all the same!), and fresh basil leaves. Then drizzle with some olive oil and season with a pinch of salt. The skewers make them a little more portable for an afternoon/evening backyard affair and voila! They become the perfect finger food!
A charcuterie board is always a fun idea, giving your guests the freedom to pick and choose what they'd like. Fill it with Canadian cheeses like cheddar and gouda, then add some deli meats made here at home. A few olives and nuts, and you're ready! Easy Peasy!
The Canadian Grill
Canadians are master Grillers by birth—it's built into our DNA. Whether it's burgers, steaks, sausages, kabobs, chicken, or souvlaki, all the meat we sell at Vince's Market is local. That's right, all our meat is from Ontario. Our commitment to sourcing our beef, lamb, chicken, pork, and turkey from Ontario suppliers means we can give you the best our province has to offer!
Our Secret for THE BEST Grilled Steak
Not sure what to grill? Burgers are always a great option and they're easily eaten in a backyard setting. But if you're looking to go all out and feast on Canada Day, steaks are a great option. Choose your favourite cut and grill them without any seasoning. I know, I know, it seems wrong to let your meat just cook without adding a little something, but it's worth it when you do this next little trick.
While your steaks are grilling, pour some high-quality olive oil into a mixing bowl (you can decide how much you'd like depending on the number of steaks you have), and add your favourite seasonings like salt, pepper, chili flakes, oregano; the choice is yours and totally dependent on what you like. Mix the spices and olive oil together and then pour over your steak once you've taken it off the grill. In the resting period, the olive oil and spice blend will infuse your steak with supreme taste. My mouth is watering already!
If you want to go the extra step, top each steak with some Canadian goat cheese. It's a taste combination made in heaven!
A New Spin on S'mores!
We all know the classic recipe for S'mores and you really can't go wrong with that, but what about a twist? Instead of using graham crackers, try using a Maple Leaf cookie instead. If you open the cookie, you have the creamy goodness of the maple cream and the added chocolate to help cushion your toasty marshmallow on the inside. Or for less work, use a whole cookie on each side. It's delicious and a little more Canadian!
All four of our locations are open all holiday weekend. Don't forget you can buy Beer & Cider at our Sharon, Uxbridge, and Newmarket locations and Wine is also available in Uxbridge!
As always, we welcome your questions and feedback. You can leave a comment right here on the site. Or head on over and join in the conversation on Facebook (remember to 'Like' the page) and Twitter.  If you haven't already signed up to receive our weekly news delivered right to your inbox (including the blog, our weekly product feature, signup for our Coterie Program, and our recipe of the week), you will find the signup by clicking here.
Til next time,
Julie