Roasted Ontario Cauliflower with Cherry Tomatoes & Olives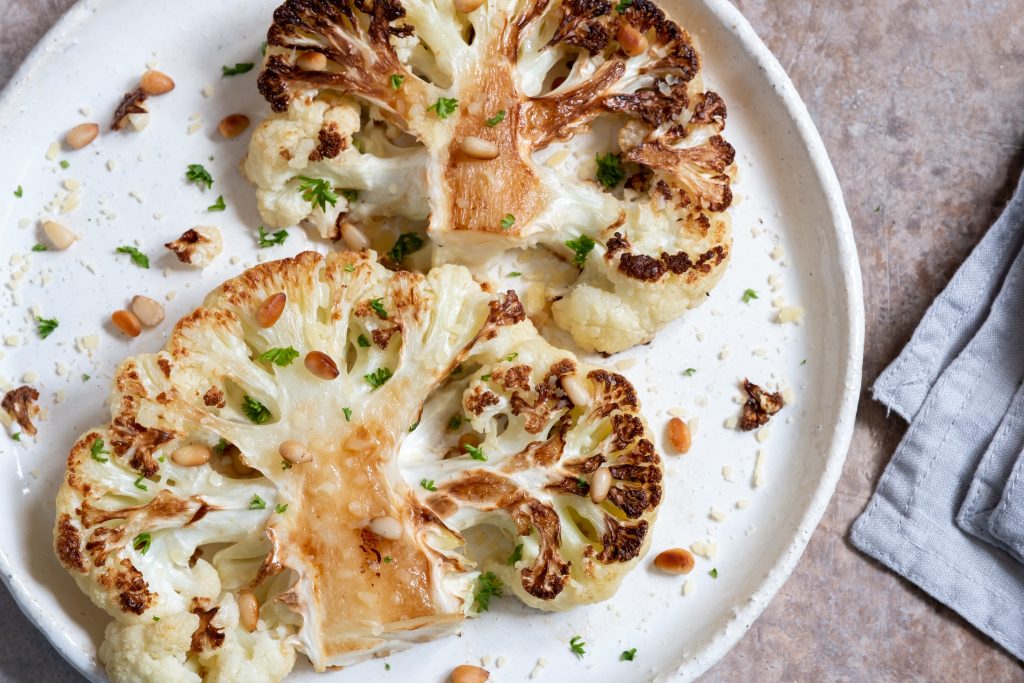 We've got Ontario cauliflower in stores now and there's no better time to get creative with this vegetable! As with other cruciferous vegetables, such as cabbage, broccoli and bok choy, cauliflower contains phytonutrients that have significant anti-cancer effects. These phytonutrients help to improve the detoxification capabilities of the body, specifically at the cellular level.
The neutral base of the cauliflower makes a great palette for a variety of flavor combinations. Depending on your mood you can go as basic as fresh herbs, garlic and chili flakes, curry adds a delicious Indian flare, or try nutmeg and cinnamon to really compliment this vegetable.
This Mediterranean inspired recipe would make a great side at your next BBQ.
Roasted Cauliflower with Cherry Tomatoes and Olives
1 large head cauliflower, trimmed and cut into florets
1 pint cherry tomatoes
¾ cup olives
3 Tbsp olive oil
½ tsp sea salt
Zest of one lemon, grated
Freshly ground pepper
2 Tbsp fresh flat-leaf parsley, chopped
Serves 4-5
Preheat oven to 400F. In a large bowl toss cauliflower with oil and season with salt and pepper.
Spread in a single layer on large baking sheet and roast stirring occasionally for 20min.
Add the cherry tomatoes and olives to the cauliflower and roast for an additional 6-8 min or until cauliflower is lightly browned and tender.
Transfer roasted cauliflower to serving bowl; add chopped parsley and season to taste.
Some Other Ways I Love to Use Cauliflower:
Cauliflower Rice
This has become quite a popular way to use cauliflower for a low carb alternative. Next to zucchini noodles this is a go-to for me. Essentially you just add raw cauliflower to a food processor and grind until it reaches a rice-like consistency. Then add in your favourite fixings and stir fry in a pan. I personally love adding sliced green onions, tamari and chopped cashews.
Cauliflower Steaks
After washing and trimming the cauliflower, cut it into ¾ inch thick slices. Brush with olive oil, sprinkle with sea salt and bake or grill. I like to top with fresh herbs once cooked.
Grated Cauliflower
I particularly love this for salads. When it's in season and extra delicious I like to take advantage and enjoy it raw for a boost of extra nutrition.
What are some of your favourite ways to enjoy fresh Ontario cauliflower and other local produce?
Our Vince's Power Up Program Mission is simply to educate our customers on the importance of using  food as fuel.  For all your Power Up news make sure you check out Vince's Facebook, Instagram, and Twitter.  Also make sure to follow @VincesMarket and #powerupwithvinces, sign up for our Power Up Newsletter and keep an eye out for more nutrition tips and tricks.
Danielle