Appetizer & Snack Recipes, General, Health, Lunch Recipes, Main Course Recipes, Seasonal Produce, Soup & Salad Recipes, Vegetarian Recipes
It's All About Balance: Salads with Bold Flavours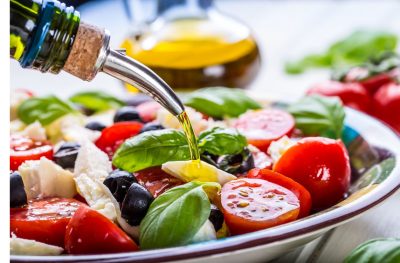 The typical salads are not boring by any stretch of the imagination, but there are many of us looking for our new favourite salad or new favourite ingredient. In that search, we're looking for bold flavours and a divergence from the run of the mill ingredients we're used to eating. That's not to say what is mainstream is out completely, but the innovation when it comes to crafting a salad is staggering.
You can put anything in a salad—anything!—as long as you pair it with other ingredients that either compliment or counteract it depending on what that ingredient is. Wondering how both can be true? Well, balance is key. Pair sweet ingredients like berries with salty additions like goat cheese or sliced almonds. Creamy ingredients like avocado or yogurt based dressings pair well with spicier options like spicy chicken or tofu, tortilla chips, or vegetables like radishes or onions. Ever find your salad gives off its own juices? Pair some drier ingredients like sliced carrots or fennel with mandarin oranges or other citrus fruits.
See, it's all about balance.
And keeping your salads to 5 toppings total. Too many more and your base of greens won't be able to stand up to the weight of what you add on top!
Greens
Aside from the normal selections of lettuces, great additions to any salad base are arugula, baby spinach, baby kale, or a variety of sprouts like mustard, pea, or radish. Each have their own distinct flavour and some add a little texture that can stand up to heavier dressings. Fresh herbs are also a great choice to add a little flavour—dill, mint, and cilantro are some of my favourites!
Fruits
Fruit is a great addition to salads. They can be sweet or tart, or juicy or firm; but in the end, they pack a great punch in terms of flavour and nutrients. Great fruits to add include berries, cherries, citrus, pomegranate seeds, tomatoes, and avocado.
Vegetables
In addition to the standard cucumber and onion of the typical salad, consider ingredients like corn, beets either roasted or pickled, snow peas, fennel, bean sprouts, or even capers (an edible flower bud). Each add their own flavours and textures to your salad as well as a range of nutrients.
Proteins
There are many proteins that can be added to any salad that will satisfy any diet or lifestyle out there. From cheeses to animal protein to vegan options, protein in any form is a main staple of a meal salad.
Cheeses can be dairy or non-dairy versions and each selection carries with it a different taste or texture. Mix it up and see what combinations become your new favourites—just be sure to keep the tenant of balance in mind. Too many bold flavours will overpower each other. Great options are goat cheese, blue cheese, parmesan, bocconcini, or even Sheese works as a vegan, dairy-free option. If you're not sure what Sheese is or know of it's versatility, take a look at a recent blog I wrote highlighting the brand's varieties.
Many salad proponents love to add meats like chicken, beef, tuna, salmon, eggs, or bacon to give them a healthy boost of protein, making it more of a meal in a bowl. But the type of meat can be jazzed up with a different flavour depending on your individual tastes—consider buffalo chicken if you're looking for a bite of spiciness, or smoked meats add a little depth.
If you're vegetarian or vegan, there are still options for you—tofu can be dressed up or left plain, a variety of beans like black, kidney, or chickpeas can add some creaminess or crunch, or can add different flavours depending on how they are prepared. Or the simple egg can be added to a salad if that's something you choose to consume as part of your lifestyle.
The options for protein are endless and only your imagination holds you back.
Dressings and Accoutrements
A great salad can be elevated by the perfect dressing, but it can also be ruined by the wrong one. Balance is what makes the difference in this case—remember sweet vs salty and creamy vs spicy? Choosing the right dressing is just as important as choosing your ingredients. In the end, you know what you like, so experiment with flavour combinations that incorporate flavours you enjoy. Don't be afraid to ask for dressing on the side either—in fact, you may be able to sample more than one dressing on your salad if you're not sure. While there may be an extra charge, it's better than ruining a perfectly good salad!
From croutons to nuts and seeds to crispy chips and tortillas, the last topping of a salad can be one of the most fun! The crunch they add is not only satisfying but it helps to balance out the other textures you've used to create your masterpiece.
Everyone has their own favourite salad combination or combinations. But keep in mind that balance is the key and experimentation is always fun. So, try something new and maybe you'll find your next favourite salad!
We'd love to hear from you! Have a fantastic salad recipe to share?? Leave us a comment here or head on over and join in the conversation on Facebook (please 'Like' the page if you're so inclined) and Twitter. If you haven't already signed up to receive our weekly newsletter which includes our blog, the weekly product feature, the weekly Coterie savings, and our recipe of the week delivered right to your inbox, you'll find the signup by clicking here.
Let's catch up soon,
Julie