Blog Recipes, Danielle, Dessert & Misc Recipes, Entertainment, Food, Holiday Recipes, Holidays, Seasonal Produce
Simple Homemade Apple Crisp for the Holidays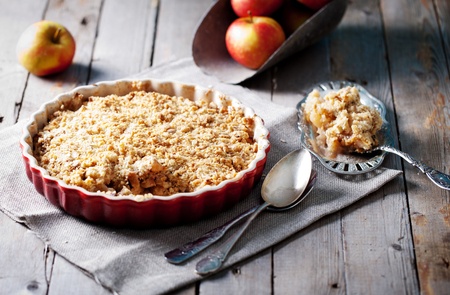 When I think of holiday desserts there are two flavours that come to mind, pumpkin and apple. Both fill the house with such a delicious aroma. I love baking but sometimes there is just too much precision involved and I just want something foolproof. If you are preparing a holiday meal and still want to put a homemade spin on dessert, then a homemade apple crisp is the way to go!
Apples are pretty much one of the only fruits that you can actually find local at this time of year since they keep so well from harvest season. When apples are baked with warming spices like cinnamon and nutmeg you can't help but feel festive. I love the versatility of a crisp, you can use any fruit and top with the same crumble, which in all seriousness is the best part anyway.
I often find that after a heavy meal the last thing I want is something heavy but of course there's always room for dessert! When you're just looking for something sweet to finish off the meal this recipe is sure to please. Top with some Kawartha vanilla ice cream for the perfect compliment.
Apple Crisp
2 lbs of apples, peeled, cored, and large dice
½ cup maple syrup
¾ cup butter
3/4 cup brown sugar
1 cup rolled oats
3 Tbsp flour
¼ tsp. ground cinnamon
½ cup chopped pecans
Serves 10-12
What To Do:
Preheat oven to 375° and grease a large casserole dish with oil or butter.
In a large bowl, combine apples, maple syrup, and cinnamon. Place evenly into baking dish.
In the same bowl, mix together oats, flour, and brown sugar. Using a fork, mix in butter until it becomes crumbly. Stir in pecans, and lay over apples. Bake in preheated oven for about an hour, or until topping is golden brown and apples are tender.
Here are a few other sweet table staples:
Stem and Leaf Clementines – have you tried these yet? They are unbelievable!!
Chestnuts or another roasted nut.
Dark Chocolate – try with sea salt for a sweet and salty treat!
Cheese Platter – I love cheese for dessert. With some honey or jelly… so good.
What are your favourite homemade dessert recipes? We'd love you to share in the comments below!
As always, we welcome your questions and feedback. You can leave a comment right here on the site or head on over and join in the conversation on Facebook (remember to 'Like' the page) and Twitter – (don't forget to follow us there too).  If you haven't already signed up to receive our weekly news delivered right to your inbox (including the blog, our weekly product feature, signup for our Coterie Program, and our recipe of the week), you will find the signup by clicking here.
Wishing everyone a wonderful holiday season and a very Merry Christmas!
Danielle