Breakfast Recipes, Danielle, Miscellaneous Recipes, Nutrition with Danielle, Power Up Approved, Power Up Program
Smoothies 101: Tips for Making Great Smoothies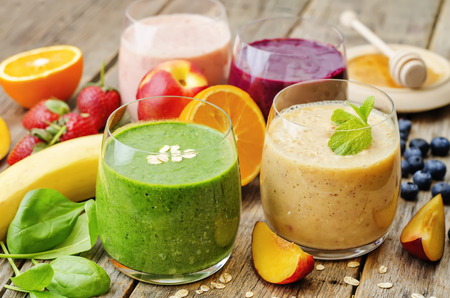 First thing in the morning, I don't have much time for making breakfast. The idea of preparing a veggie omelette, along with a side of hash browns, whole-grain toast and a glass of freshly-squeezed OJ, is nice, but it's not realistic when we're running late… Which is most weekday mornings.
Smoothies are Quick, Delicious and Nutritious
So my 'go to' breakfast involves dropping a few carefully-selected items into the blender, hitting the button, and whoosh! A delicious and nutritious meal in a glass.
Of course, that depends on how carefully you select the ingredients – and for me, that doesn't involve over-sweetened yogurt, syrups, and the many high-carb options that will turn your healthy smoothie into a dessert.
To keep our readers on the straight and narrow, I had a word with Vince's colleague Danielle Cosentino, a holistic nutritionist and natural chef, who will school us on the topic. Let's call this 'Smoothies 101.'
Smoothie Wisdom from our Holistic Nutritionist, Danielle
"One of my favourite ways to get a good dose of nutrients without the heaviness of a meal, is to make a smoothie," said Danielle. "But keep in mind that those you buy in the grocery store, restaurant or mall can be very high in carbohydrates – and not particularly healthy. Some can have between 50g and 90g of carbs. That could wreak serious havoc on your blood sugar."
Balance Fruit with Protein and Fat
She advises that although fruit is a healthy choice, it is possible consume too much in one sitting. "By adding protein and fat, it slows down the absorption rate of those carbs, making it a much more satisfying snack that will keep you fueled longer."
Make Your Own Smoothies
To put you in the driver's seat – and control the sugar – try making your own.  Here's a simple way to get started:
Choose a liquid (nut milk, water, milk, juice, etc.).
For creamier texture add avocado, frozen banana, yogurt, or nut butter.
Add neutral veggies for a nutrient boost (ie. spinach or kale).
Be mindful of your portions.
Keep in mind you need a powerful blender to liquefy kale and break up the chunks. My kids rebel at a smoothie that isn't smooth. Spinach, on the other hand, is also a superfood, but it's milder and blends lickety split. And, a bonus, your kids won't even know it's there.
Fill it Up with Healthy Items
A good smoothie artist can tuck in a plethora of healthy items, keeping it nutrient dense and delicious, and with the right texture and consistency to please picky eaters.
Below are some of Danielle's favourite ingredients:
coconut, almond, cashew, or rice milk
nut butters
avocado
hemp and flax seeds
fruit (banana, mixed berries)
full fat yogurt or kefir
cocoa powder
protein powder
cinnamon
greens powder
leafy greens (spinach, kale, sprouts)
nuts and seeds
dates
Experiment with different combos and discover what works – not just concerning taste, but in terms of focus and energy.
I've been concocting smoothies for years, and they are still the best way to start my day. So dust off that blender and try one tomorrow!
As always, we welcome your questions and feedback. You can leave a comment right here on the site. Or head on over and join in the conversation on Facebook (remember to 'Like' the page) and Twitter.  If you haven't already signed up to receive our weekly news delivered right to your inbox (including the blog, our weekly product feature, signup for our Coterie Program, and our recipe of the week), you will find the signup by clicking here.
Til next time,
— Neil, with Guest Blogger Danielle
Danielle Cosentino is a holistic nutritionist (R.H.N.), natural chef, and registered massage therapist (R.M.T.) She has grown up in the grocery business and is passionate about healthy lifestyle choices. Danielle has been practicing in the health and wellness industry since 2006, and co-founded a company called 4 the Luv of Food, which developed a formula that helps people gain control of their blood sugar levels.
Neil Moore is a seasoned journalist, blogger and masters athlete who relies on food not only for fuel, but as one of life's great pleasures.