Stouts and Cheeses for St. Patrick's Day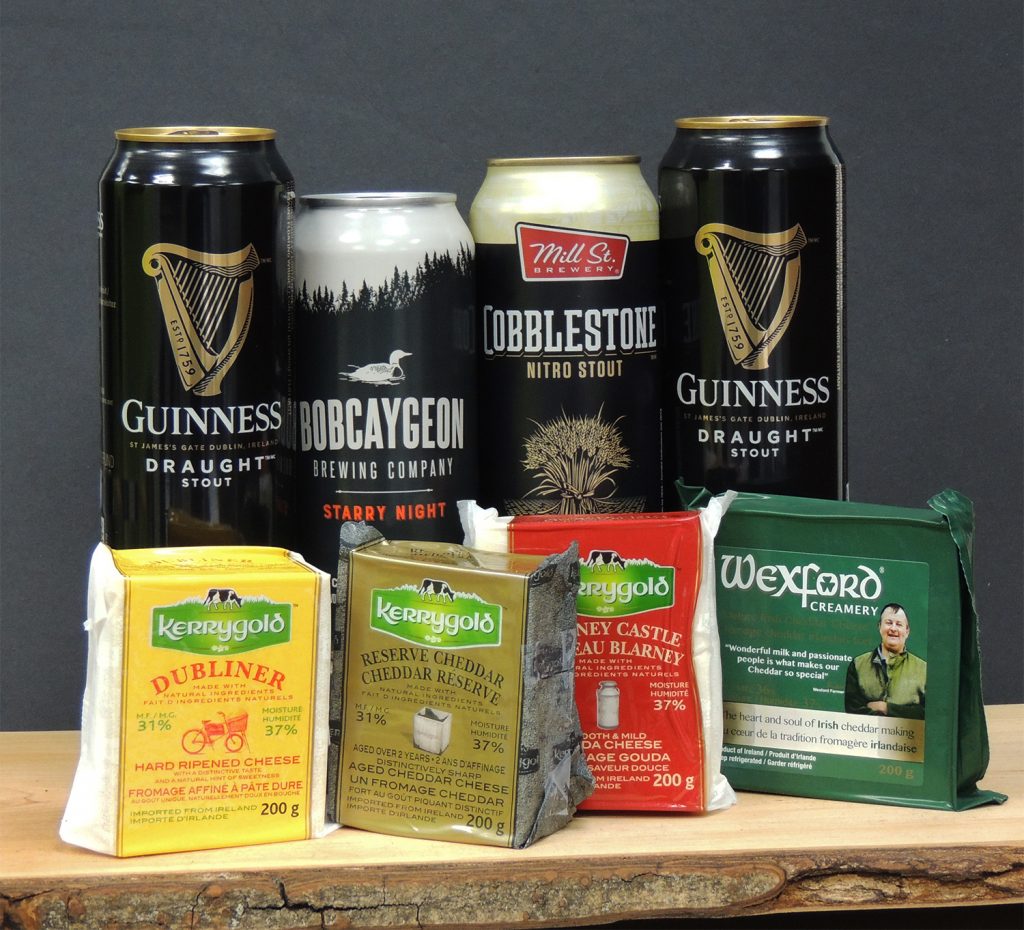 I'm no fan of green beer, so to celebrate St. Patrick's Day, I usually turn to an old Irish favourite. A global brand with a 260-year history that is apparently now brewed in 50 countries – Guinness stout.
It's black, rich and creamy, and pours with a velvety head so thick you can write your initials in it. No kidding – I've done it. But not everybody is keen on sticking a finger in their pint.
It may look robust, but Guinness is anything but harsh. It goes down smoothly, complemented by a nice blend of bitter and sweet – along with strong malt, thanks to its base of roasted barley.
Canned vs Draft?
That's typically an easy decision, but some industry genius has figured out how to deliver the taste and texture of a real pub pint without the pub. Each can of Guinness includes a plastic "widget" that infuses its brew with tiny nitrogen bubbles when you pop the top. Just pour gently, and voila!
But the Irish icon isn't the only one to employ this trick. Mill Street's Cobblestone Nitro Stout is similarly charged to deliver the draft experience. It too has a roasted malt flavour, along with some chocolate in the finish. And it's certified organic.
If you like chocolate (and who doesn't!), there's a stout from Bobcaygeon Brewing Company that will scratch that itch. Starry Night is made with chocolate malt and more than 100 lbs of locally-roasted Ecuadorian Arriba cacao nibs for a nice blend of chocolate and coffee flavours.
Cooking With a Taste of Ireland
Sticking with the day's theme, I'm hoping to pair my stout with a nice Guinness stew – although a juicy burger will also suffice. And for a pre-dinner appetizer, I'd suggest a few Irish cheeses.
Like our trio from Kerrygold. Start with the mild and creamy Blarney Castle, a 100% natural, grass-fed cheese with no artificial flavors or additives. It both feels and tastes like a young Dutch gouda.
More complex is Kerrygold's Dubliner. A little sweet and somewhat nutty, this more robust cheese has a similar hard texture to cheddar. It too is made from grass-fed cows. Try a few slices melted over crusty bread, alongside your glass of stout. Delicious…
Or for a more intense experience, sample their Reserve Cheddar. An extra year of aging gives it a sharp, strong flavour.
There are other Irish cheeses from small producers, like Wexford Creamery, that are also worth a nibble. Take a few minutes to explore our selection, and then wander over to the beer aisle. We'll help you get ready for March 17th.
We'd love to hear from you! Do you love Guinness, or have a fantastic recipe to share?? Leave us a comment here or head on over and join in the conversation on Facebook (please 'Like' the page if you're so inclined) and Twitter. If you haven't already signed up to receive our weekly newsletter which includes our blog, the weekly product feature, the weekly Coterie savings, and our recipe of the week delivered right to your inbox, you'll find the signup by clicking here.
Happy St. Patrick's Day!
— Neil