Thank you to Our Customers and to Metroland Readers!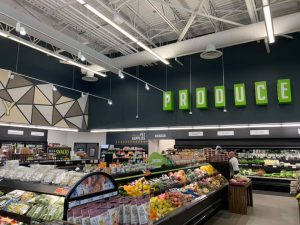 These are unprecedented times, and one heartening thing to come from this pandemic is the appreciation we've been seeing for our frontline workers. When so much of the business community has been put on temporary 'pause,' grocery stores have been declared an essential service – and our team has risen to the occasion.
Vince's Market has remained open, well-stocked, and fully staffed to serve you. We are proud of our people – and value your trust in Vince's Market.
Vince's Achievements
We are also grateful to Metroland readers, who have honoured us once again with several Readers' Choice awards. One of these is a repeat win for #1 Grocery Store, not to mention taking first place for Fresh Produce for the 24th consecutive year – an unparalleled achievement!
Vince's has also earned top spot in the following categories:
Independent Grocer
Butcher/Meat Dept
Farmers Market
Specialty Food Store
The recognition from local readers is humbling, and we thank all our customers for their loyalty and patronage. This is validation that not all shoppers are looking for the 'big box' experience, and that staying true to our roots as a family business, and to our small-town friendliness, continues to be the right direction for us.
That being said, we've made some big changes over the past few years, including opening a new store in Tottenham, a "best of" micro store in Upper Canada Mall (now temporarily closed), and a beautiful, new flagship store in Sharon to replace our first Vince's location.
COVID-19 Precautions
And I'm sure you've noticed changes to the way we now operate. COVID-19 has brought in quite a few new safety precautions – some involving barriers and distancing. But we haven't lost sight of the need for caring and attentive customer service. This will continue to be a strength for our team, despite the plexiglass, face shields, gloves and masks.
We've also stepped up in other ways, with initiatives like our Home Delivery or Pickup Service. Place your order online (or by phone for those who don't have computer access), and we can either deliver to your home or have the items ready for pickup at any of our four main stores.
What hasn't changed is our support for the community. Both management and staff play a key role in fundraising for many life-changing local causes. Key among them is our "Community Product Initiative," which raised more than $40,000 over the past two years. We look forward to our results for 2020.
We are also active on social media, providing you with relevant information on nutrition, new products, community involvement, and other timely topics. Be sure to 'like' us on Facebook:
And don't forget to visit our website to view our current flyer, blogs, recipes, weekly product features – or to shop online.
In the meantime, please stay heathy and safe!
— Giancarlo Trimarchi