Appetizer & Snack Recipes, Food, Halloween, Holiday Recipes, Holidays
The Perfect Hallowe'en Party Recipe Ideas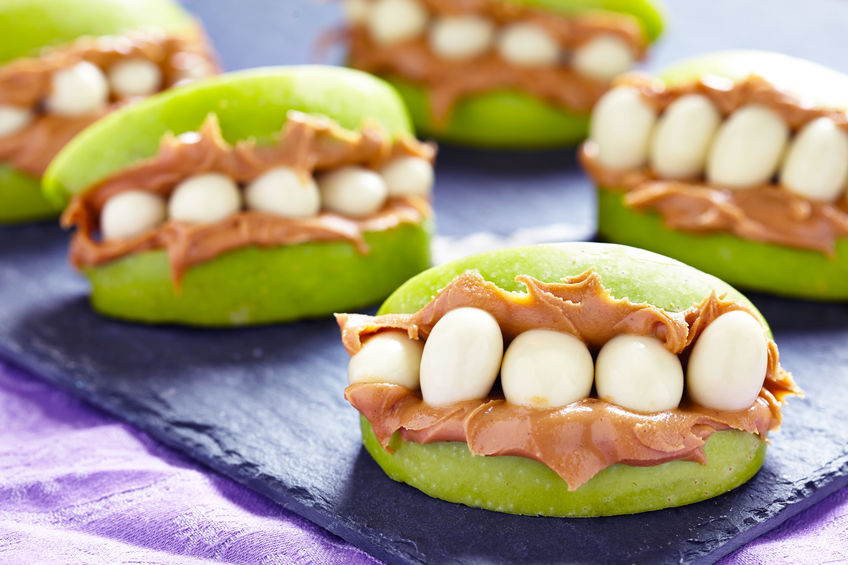 With Hallowe'en just around the corner, it's party season! Who doesn't love dressing up in costumes and socializing with friends over some great food? For me personally it marks the beginning of the Holiday entertaining season that leads into Christmas and New Year's. Vince's Market has a few Halloween Party Recipes to help make the food at your party a hit with everyone!
Mummy Brie
Thanks to puff pastry, your basic baked brie becomes a totally spooky Halloween appetizer. All you need to do is wrap your brie round like a mummy and you're set for a deliciously spooky take on a classic! Serve with crackers, or veggie sticks and you're set!
MUMMY BRIE
INGREDIENTS
1 sheet of thawed puff pastry
1 round of brie
1 large egg
1 tbsp milk
2 mini pepperoni
2 sliced black olives
DIRECTIONS
Preheat oven to 400°. On a floured work surface, unroll puff pastry and cut into 1" strips. Wrap strips around brie like a mummy.
Whisk together the egg and milk and brush over pastry. Transfer brie to a parchment-lined baking sheet.
Bake until brie is warmed through and gooey and puff pastry is deeply golden, around 20 minutes.
For eyes, place two mini pepperonis into two sliced olives. Serve with crackers.
Deathly Hallows Charcuterie Board
Have some tasty fun at Halloween with this take on a Charcuterie Board. With so many options to choose from to make yours a hit, here are a few I've tried and really like!
THE WITCH'S CHEESE HAT
INGREDIENTS
2 ounces cream cheese cold
8 ounces gorgonzola cheese crumbled
1 tablespoon fresh sage chopped
4 cloves roasted garlic optional
2 tablespoons fig preserves
1/3 cup roasted pistachios chopped
salt & pepper to taste
poppy seeds for coating the hat
pomegranate arils for the rim of the hat (you can use any red fruit, just cut it into smaller pieces)
DIRECTIONS
Combine the cream cheese, gorgonzola cheese, sage, roasted garlic cloves and salt + pepper in a bowl. Beat together using an electric mixer until combined and whipped. Fold in the fig preserves and pistachios. Divide the mixture in half and shape into balls. Place each ball on a piece of plastic wrap. Fold the wrap around the balls.
Shape one ball into a 6 inch, flat circle and place on a plate. Place the remaining balls in the center of the circle. Shape the balls into a cone to form the top of the witch's hat. I found that using plastic wrap while shaping each piece was very helpful.
Place the plate in the fridge to chill for at least 2 hours.
After 2 hours, remove the plastic wrap and position the cheese cone in the center of the circle. Cover the entire hat in poppy seeds. I recommend doing this on a clean counter so you can save any poppy seeds that fall. Line the rim of the hat with pomegranate arils. Store in the fridge until ready to serve.
MARINATED MOZZARELLA EYEBALLS
INGREDIENTS
1 pound bocconcini
1 jar green martini olives drained
2 sprigs fresh thyme & rosemary
2 tablespoons fresh sage chopped
salt & pepper to taste
pinch of crushed red pepper flakes
olive oil enough to cover the cheese
DIRECTIONS
Place the mozzarella balls and the olive in a large glass jar, layering the cheese + olives with the fresh herbs, salt and pepper as you go. Pour the olive oil over top to cover. Allow the cheese to marinate at least 2 hours or up to 2 days. Serve with forks and crackers.
CHEDDAR CHEESE CARAMEL APPLES
INGREDIENTS
1 bag caramel bits
2 tablespoons heavy cream or water
6 granny smith apples (you can use whichever apples you prefer but granny smith hold up really well)
2 cups crushed cheddar cheese cracker crumbs
DIRECTIONS
Stick twigs into the top of each apple and add the cheddar cracker crumbs to a shallow bowl.
Prepare the caramel as directed on the bag of caramel bits. Dip each apple in caramel and allow any excess to drip off. Working quickly, roll each apple in the cheese cheese crackers and then place on a serving plate. Repeat with the remaining apples. Let the apples sit 30 minutes before serving so the caramel hardens or store in the fridge until ready to serve.
PEANUT BUTTER & CHEDDAR BLACK SPIDERS
INGREDIENTS
16 Ritz Crackers
8 tablespoons creamy peanut butter
24 mini pretzel sticks
8 squares sharp cheddar cheese
2 tablespoons butter melted
poppy seeds or black sesame seeds, for sprinkling
16 dried cranberries
DIRECTIONS
Spread the peanut butter on the bottom side of the Ritz Crackers. Break the pretzels in half and place 3 pretzel pieces on either side of the cracker, sticking the pretzels into the peanut butter to hold them in place.
Place a piece of cheddar on top and then spread the remaining bottoms of the Ritz Crackers with just a little peanut butter and place peanut butter side down onto the cheese. You should now have a sandwich. Repeat with the remaining crackers.
Brush the tops of each sandwich with melted butter and then sprinkle with poppy seeds or black sesame seeds. Place a little peanut butter on each of the cranberries and stick two cranberries on the crackers to look like eyes. Place on a serving plate.
Cover and store in the fridge until ready to serve.
If you're not fond of cheese and peanut butter, you could use thin apple or pear slices, or dried fruit like raisins.
VAMPIRE TEETH APPLES
INGREDIENTS
3 red apples cut into 6 wedges
creamy peanut butter for spreading
slivered almonds for the teeth
cranberries for the fangs
DIRECTIONS
Slice the apples so you have triangular wedges. Now cut a smaller triangular wedge out of those wedges for the mouth.
Spread the inside of the apple with peanut butter. Stick two cranberries on the outer edge of the mouth for the fang and then stick 4 slivered almonds (break them into smaller pieces if needed) in between the fangs for teeth. Serve within a few hours of making as the apples can get a little discolored.
CRUDE-ITÉS WITH GREEN SLIME DIP
INGREDIENTS FOR THE DIP
1 cup packed basil leaves
1/4 cup packed parsley leaves
1 clove garlic
2 scallions, chopped
1/2 cup sour cream
1/2 cup mayonnaise
salt and pepper
Green food coloring (optional)
DIRECTIONS
Make the dip by combining basil, parsley, garlic, scallions, and sour cream in a blender. Blend until creamy, scraping down the side as necessary. Pour mixture into a bowl. Whisk in mayonnaise and season with salt and pepper. Tint a brighter green with food coloring if desired. (Cover and refrigerate overnight if desired.)
Arrange your favourite vegetables cut into sticks in a serving bowl so they stand up. Cover with moist paper towels and refrigerate until ready to serve with dip.
OTHER IDEAS FOR THE BOARD
roasted sweet potato or vegetable chips
fresh figs, grapes, and berries
pretzels
thinly sliced prosciutto
NOW TO PUT THE BOARD TOGETHER
Place the witch's hat, caramel apples, cheese eyes, black spiders, and vampire teeth all on a table or very large cutting/cheese board. Add the sweet potatoes rounds, figs, grapes, pomegranates, pretzels/crackers and prosciutto wherever you'd like and BOOOO! You're all set to entertain!
Spider Bite Cupcake
Every party needs something sweet! These spider cupcakes are delectably adorable and just scary enough to give your guests a fright! Imagine vanilla cupcake and topped with spiders crafted out of a chocolate-covered marshmallow cookie, with Tootsie Roll legs and M&M's for eyes. So sp
SPIDER BITE CUPCAKES
INGREDIENTS
24 cupcakes
1 1/2 can Vanilla Frosting
24 chocolate-covered marshmallow cookies (such as Whippets or Viva Puffs)
48 Tootsie Roll Midgees
1 tube of chocolate or brown coloured icing
Regular M&M's and mini M&M's
DIRECTIONS
Frost cupcakes with vanilla frosting, reserving 1 Tbsp. Place the marshmallow cookies on top.
Cut Tootsie Roll Midgees into 4 pieces each. Using the palm of your hand, roll each piece into a 3-inch rope. Press into rope with tines of a fork to make texture lines. Press 8 ropes onto each frosted cupcake for legs.
Pipe small dots of tube icing onto cookies for eyes and nose; press on M&M's for eyes and mini M&M for nose. With a toothpick, dot eyes with reserved white frosting.
So whatever you're planning for your Hallowe'en party, Vince's Market has you covered with the ideas and ingredients needed to make it a spooky success! We'd love to hear from you! Do you have any special Hallowe'en traditions, or have a fantastic recipe to share??
Leave us a comment here or head on over and join in the conversation on Facebook (please 'Like' the page if you're so inclined) and Twitter. If you haven't already signed up to receive our weekly newsletter which includes our blog, the weekly product feature, the weekly Coterie savings, and our recipe of the week delivered right to your inbox, you'll find the signup by clicking here.
Julie