Vince's Looks to Ontario Family Farms for High-Quality Angus Beef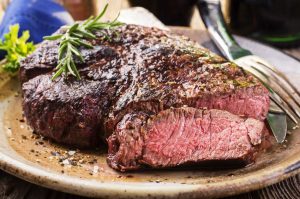 So far spring has been a slog, with snow earlier this week and weather that has seemed more like late March than mid May. But temperatures are finally getting close to what's normal for the Victoria Day long weekend – creating a late, but enthusiastic start to the barbecue season.
And with the return to backyard grilling in mind, we thought it an ideal time to post a blog series on Ontario beef.
Roughly a year ago, we launched our Ontario Reserve Angus Beef program. While that may seem a mouthful (like the beef!), this initiative was not just about raising the bar on quality and flavour, it was about sustainability, and supporting our local economy.
"Our customers care about taste and texture, but they are also concerned about where and how our beef is raised," said Giancarlo Trimarchi, partner at Vince's Market. "Buying local, especially now, continues to be important to many shoppers, for reasons ranging from quality and freshness, to supporting our farmers."
At Vince's, all our beef is sourced from Ontario family farms, many of which have been in operation for several generations. These families take a long-term approach to their trade, with a strong commitment to protecting the soil and water on which they depend.
Responsible farming is good for business.
"Our unique Quality Assurance program is a commitment to ensure that we provide Vince's Market customers with safe and wholesome, great tasting beef – while being committed to animal welfare and sustaining the natural environment," said John Baker, director of business development for Ontario Cattle Feeders Association.
As customers, we purchase our meat on neatly wrapped foam trays, and like many of the other items in our grocery carts, we may have little idea what's involved in bringing it from farm to fork. At Vince's we hope to shed some light on the process, as we feel that it is not only important to keep you informed, but to offer products that we believe are best in class.
"Our association is proud to partner with Vince's markets to bring high quality, locally produced beef to their customers," Baker adds.
Stay tuned for part 2 of this series, as we dive a little more deeply into animal care, and life on an Ontario family farm.
Until then, have a wonderful long weekend!
Vince's Market