Community Programs, Store Promotions, Vince's Cares
Vince's Market Collects Toonies for Tummies!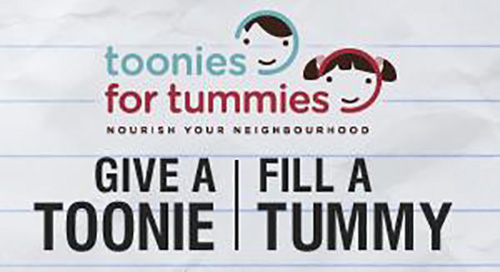 Vince's Market is taking part in the 2019 Toonies for Tummies campaign running from February 7th to February 21st. In conjunction with The Grocery Foundation, Vince's Market will be collecting donations as well as selling many of the sponsored products in order to help feed hungry children in our communities.
The Grocery Foundation does so much more than just feed hungry children; it also nourishes their potential and their wellbeing. The funding collected during the Toonies for Tummies campaign helps to ensure tens of thousands of school-aged children and youth have universal access to proper nutrition while at school. Not only do they have the Toonies for Tummies program, but they also achieve their goals through Foundation grants, industry donations, and fundraising events.
100% of donations made through this campaign go directly to kids and youth in the communities where the funds are collected.
If you'd like more information on what The Grocery Foundation does, please visit their website at http://www.groceryfoundation.com/index.html. Information for how you can volunteer or donate directly can be found on their site as well.
If you want to know more information about the Toonies for Tummies Campaign, please visit: https://tooniesfortummies.ca/.
So which products are featured by the 2019 Campaign Sponsors?
Oasis 100% Apple Juice (A Lassonde Inc)
Egg Bakes! Cheddar Mushroom Bacon Crustless Quiche (Burnbrae Farms Ltd)
Mott's Fruitsations (Canada Dry Motts)
Buddig Sliced Lunch Meats (Carl Buddig and Company)
Snack Pack Pudding (ConAgra Foods Canada)
Pogos (ConAgra Foods Canada)
Purex After the Rain / Cold Water (Henkel)
Italpasta Pasta (Italpasta Ltd.)
Kraft Peanut Butter (KraftHeinz)
Schneiders Dry Cured Genoa Salami Snack Kit (Maple Leaf Consumer Foods)
French's Mustard (McCormick Canada)
Belvita Banana Oatmeal and Chocolate Biscuit (Mondelez Canada)
Carnation Instant Breakfast (Nestle)
Black Diamond Cheestrings (Parmalat Canada)
Astro Balkan Plain Yogurt (Parmalat Canada)
Tropicana Pure Premium Orange Juice with Pulp (PepsiCo Beverages)
Quaker Instant Oatmeal (PepsiCo Foods)
Made Good Chocolate Chip Granola Bars (Riverside Natural Foods LTD)
Rudolf's Bavarian Multigrain (Rudolph's Bakeries Ltd.)
Starbucks Pike Place Medium Roast (Starbucks Canada)
Summer Fresh Roasted Red Pepper Topped Hummus (Summerfresh)
So, while you're doing your weekly shopping, consider picking up some of these items and donating a toonie for a tummie! You'll be doing a great thing for all the children and teens who benefit greatly from the program.
We'd love to hear from you! Do you love Dark Chocolate, or have a fantastic recipe to share?? Leave us a comment here or head on over and join in the conversation on Facebook (please 'Like' the page if you're so inclined) and Twitter. If you haven't already signed up to receive our weekly newsletter which includes our blog, the weekly product feature, the weekly Coterie savings, and our recipe of the week delivered right to your inbox, you'll find the signup by clicking here.
Let's catch up soon,
Julie