Appetizer & Snack Recipes, Blog Recipes, Cheese, Food, General, Vince's Own
All About Cheese: Vince's Own Double Cream Brie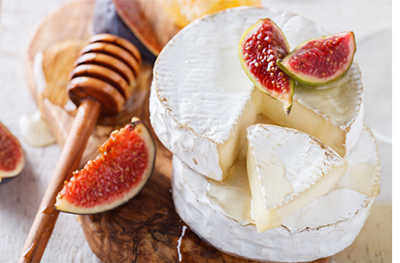 Brie is a soft, creamy, and off-white or yellow cheese with an edible rind. It is one of several soft-ripened cheeses made from cow's milk and is usually sold in small rounds. Our Vince's Own Double Cream Brie builds on the tradition of the single cream brie while maintaining its superior flavour. 
The Rind
The soft white rind is mold—a form of penicillin to be exact. The rind is even considered a delicacy in some circles. Sweet and soft, it complements the cheese well and some connoisseurs consider discarding the rind a form of blasphemy. In fact, the rind is what gives the cheese its ooey-gooey goodness as it breaks down the fats and proteins in the brie, causing an increasingly creamy-to-runny texture over time. 
How It's Made 
True French brie is a soft farmhouse cheese made from unpasteurized cow's milk. The flavor of French brie is rich and fruity and has a creamy texture. Brie is made in many countries. In Canada, cheese made from raw or unpasteurized milk is manufactured and produced in a way that helps eliminate harmful bacteria that may be present in raw or unpasteurized milk. Brie wheels made of pasteurized milk are somewhat milder in flavor than true French brie and are available either plain or with herbs. 
One of the natural innovations of Brie is that it develops a natural, white mold (usually Penicillium Candidum) which gives the cheese its characteristic bloomy rind on the exterior of the rounds. The white moldy rind is edible and delicious. If you prefer to scrape it off, we won't tell! 
How To Serve Brie 
Brie is often served at room temperature on a plate with crackers or a baguette, or it can be a delicious addition to sandwiches and salads. The round can be baked in the oven with or without a pastry covering. Considered to be one of the world's great cheeses, it's simple and versatile, pairing well with champagne, nuts, and fruit. 
Given that Easter is coming up, Baked Brie is an excellent starter! Vince's Own Double Cream Brie works well both alone or in any recipe! 
Honey Brûlée Brie 
Ingredients: 
1 (8 ounce) wheel triple cream brie, top rind cut off 
1 tablespoon honey, plus more for drizzling 
1 tablespoon turbinado sugar 
Crostini, crackers and/or crudité for serving 
Directions: 
Preheat broiler. 
Place brie onto a heatproof plate, cut-side up. Spread honey evenly over the top of the brie and top with an even layer of sugar. 
Place brie under broiler and broil for about 1 minute or until sugar melts and caramelizes. 
Remove from heat and allow sugar to cool and harden, 1 to 2 minutes. 
Serve with crostini, crackers or crudité. 
If you're feeling like branching out a bit and taking your taste buds on a luxurious ride, try this recipe! 
Grilled Peanut Butter and Jelly Sandwich with Brie 
Ingredients: 
4 slices of bread 
2 to 4 tablespoons of peanut butter 
1 to 2 tablespoons of your favourite jam or jelly 
Brie cheese 
Butter, a softer consistency works best for this application 
Instructions: 
Spread a layer of peanut butter on two slices of bread.  
Spread a layer of jam or jelly on top.  
Cut several slices of Brie that are about 1/8 to 1/4 inch thick. You can trim off the rind if you like but it's not necessary. Using your fingers, spread out the Brie, and lay it on top of the jam. Add enough Brie to cover the slice of bread. 
Top with the other slice of bread and butter each slice on the outside. 
Using a grill pan or a skillet, toast both sides of the sandwich for about 2 minutes, until the bread is browned and the cheese melts. 
We'd love to hear from you! Do you love Brie, or have a fantastic recipe to share?? Leave us a comment here or head on over and join in the conversation on Facebook (please 'Like' the page if you're so inclined) and Twitter. If you haven't already signed up to receive our weekly newsletter which includes our blog, the weekly product feature, the weekly Coterie savings, and our recipe of the week delivered right to your inbox, you'll find the signup by clicking here. 
Let's catch up soon, 
Julie