Community Product, Community Programs, Holidays
Vince's Steps Up Community Support for Thanksgiving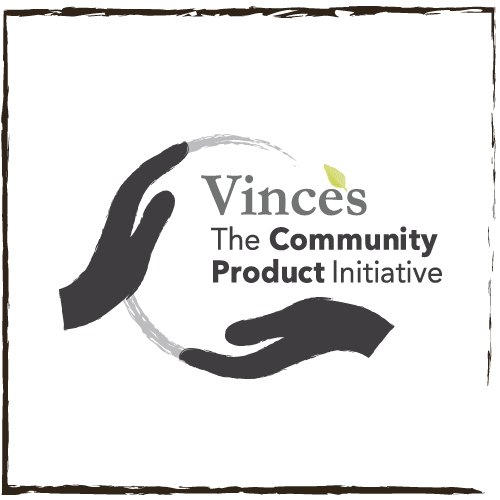 Vince's Market has been a long-time supporter of local Food Pantries – it is something we do year-round. But there are certain times, particularly holidays, when these organizations feel the added pressure.
Times like Thanksgiving.
This year, we stepped it up with two more initiatives to supplement our regular sale of Food Pantry bags – each containing a selection of healthy staples for a balanced meal at home.
1) Vince's Community Product Initiative:
Since January 2018, we have been identifying one item per flyer as the Community Product. And have been allocating 15 percent of total sales of that product – during the flyer period – to the Community Project selected by local customers and staff. Just prior to Thanksgiving, that product was our $10 and $20 food pantry bags.
We sold more than 120 bags during that week and contributed 15 percent of sales. This gave local pantries not only some much-need food items, but additional cash to help them through the holiday weekend.
2) Vince's Market "Squash Drive" with the Newmarket Squash Club:
We donated 100 squash (the veggie, not the racquet sport!) to the Newmarket Squash Club, who in turn sold them to family, friends and fellow members – and raised $500 for the Newmarket Food Pantry!
****************************************
Community Product Initiative Progress Update
So after roughly nine months, how is our Community Product Initiative doing?
As of September 27 (the most recent tally) we had raised $20,318.16.
$5061.58 from Newmarket
$4501.92 from Sharon
$4231.99 from Tottenham
$6522.68 from Uxbridge
"We couldn't do it without our customers, who have been instrumental to our community support," said Giancarlo Trimarchi, partner, CFO and Controller at Vince's Market. "This particular initiative has been growing even better than expected, and we believe that by year end, we'll be able to provide significant contributions to four very worthwhile local causes."
These are the Community Product Initiative Recipients for 2018:
Doane House Hospice is a dynamic non-profit organization, dedicated to enhancing quality of life through non-medical support for those affected by, or caring for, an individual with a life-threatening illness. They also provide bereavement support. The vision of DHH is to make volunteer hospice care accessible to all in the community.
Blue Door Shelters provides safe, supportive shelter and services for people who are homeless or at risk of becoming homeless. Initiated as a shelter for single men in 1982, Blue Door Shelters has expanded its services to include emergency shelter programs for families and youth.
Tottenham Food Bank provides this essential service with no judgement or restrictions. They have two locations – in Tottenham and Beeton – which are open every Tuesday afternoon and evening to all residents who find themselves in need.
The Uxbridge/Scugog Animal Control Centre has been pairing local families with dogs and cats for generations. Located on Reach St., the shelter is responsible for animal control across Uxbridge and Scugog Townships. Their dedicated team of full-time, part-time and volunteer staff provides care for dozens of lost or stray, injured cats and dogs until they can be reunited with their owners or placed for adoption.
A big thanks as well to Metroland Media Group for their support of The Community Product Initiative by providing complimentary space in the East Gwillimbury Express, Newmarket Era, Uxbridge Times Journal, and Alliston Herald to promote our item of the week. Thank you for your generosity and commitment to the community!
As always, we welcome your questions and feedback. You can leave a comment right here on the site. Or head on over and join in the conversation on Facebook (remember to 'Like' the page) and Twitter.  If you haven't already signed up to receive our weekly news delivered right to your inbox (including the blog, our weekly product feature, signup for our Coterie Program, and our recipe of the week), you will find the signup by clicking here.
Until next time,
— Neil