Appetizer & Snack Recipes, Blog Recipes, Cheese, Entertainment, Food, General
All About Cheese: It's Time to Talk Blue!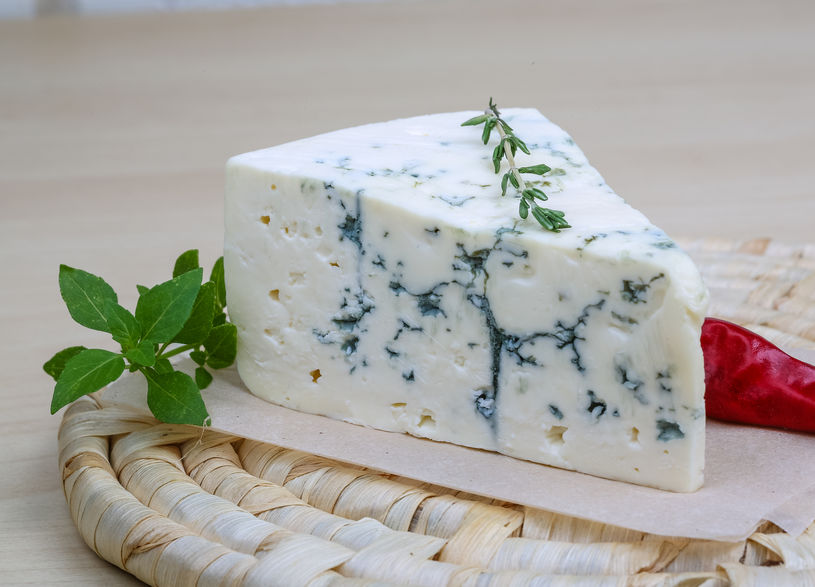 Castello Blue Cheese is Vince's Cheese of the Month for January, so let's take a moment to learn about the sharp and salty staple of many a cheese-lover's diet.
The general classification of blue cheese are cheeses infused with cultures of the mold Penicillium. This gives the final product those marbled veins of blue or blue-grey mold. Blue cheeses carry a distinct smell; which comes from the Penicillium or the addition of specially cultivated bacteria encouraged to grow on the cheese during the cheese making process. Some blue cheeses are injected with spores before the curds form. While others have spores mixed in with the curds after they form. Typically aged in temperature-controlled environments, such as a cave, blue cheese can be eaten by itself or can be spread, crumbled or melted into or over foods.
Blue cheese is believed to have been discovered by accident when cheeses were stored in natural temperatures and moisture-controlled caves—favorable environments for many varieties of harmless mold.
There's even a legend describing the discovery of Roquefort, the King of blue cheeses in France! A young man, enjoying his lunch of bread and sheep milk cheese, looked up to see a beautiful young woman in the distance. Abandoning his lunch in a nearby cave, he rushed off to meet her. Returning months later, he found that a mold, now named Penicillium roqueforti, had transformed his cheese into what we now know as Roquefort. That's where the story gets a little weird in my mind. I'm not sure I'd have eaten the now moldy cheese I'd left in a cave for months; but thankfully the young man was braver than I am!
A Blue Cheese For Everyone's Taste
Castello has a wide range of blue cheese options, from their Double Crème Blue that boasts a tender and mild initial flavour that transforms into a delicate beery bitterness, to their Burger Blue which is conveniently sliced and made to melt with tangy notes balanced with sweet and salty undertones. These are just a few of the varieties they offer. If you're looking for something more traditional, try their Extra Creamy Danish Blue—buttery with a hint of oiliness and a sharp blue mold sourness overlaid on tempered salty butter; their Traditional Danish Blue—with hints of marzipan and a soft bitterness of sourdough; or their Crumbled Blue made from their traditional Danish Blue.
With the Super Bowl creeping up in the beginning of February, party planning starts now, and blue cheese can make your event a touchdown among your guests! Consider making this wonderful Bacon-Blue Cheese Dip to serve with chips, vegetables, or your favourite chicken wings!
Bacon Blue Cheese Dip
Ingredients:
7 bacon slices, chopped
2 garlic cloves, minced
2 (227-250g) packages cream cheese, softened
1/3 cup half-and-half or cream
½ cup crumbled blue cheese (use more if you like)
2 tablespoons chopped fresh chives
3 tablespoons chopped walnuts, toasted
Instructions:
Cook chopped bacon in a skillet over medium-high heat 10 minutes or until crisp. Drain bacon and set aside. Add minced garlic to skillet, and sauté 1 minute.
Beat cream cheese at medium speed with an electric mixer until smooth. Add half-and-half, beating until combined. Stir in bacon, garlic, blue cheese, and chives. Spoon mixture evenly into 4 (1-cup) individual baking dishes.
Bake at 350° for 15 minutes or until golden and bubbly. Sprinkle evenly with the chopped walnuts, and serve with your favourite crackers, chips or nachos, vegetables, or chicken wings.
We'd love to hear from you! Do you love Blue Cheese, or have a fantastic recipe to share?? Leave us a comment here or head on over and join in the conversation on Facebook (please 'Like' the page if you're so inclined) and Twitter. If you haven't already, sign up to receive our weekly newsletter which includes our blog, the weekly product feature, the weekly Coterie savings, and our recipe of the week, delivered right to your inbox. You'll find the signup by clicking here.
Let's catch up soon,
Julie