Appetizer & Snack Recipes, Blog Recipes, Christmas Turkey, Entertainment, Holiday Recipes, Holidays, Main Course Recipes, Vince's Own, Vince's Platters
Top 12 Christmas Side-Dishes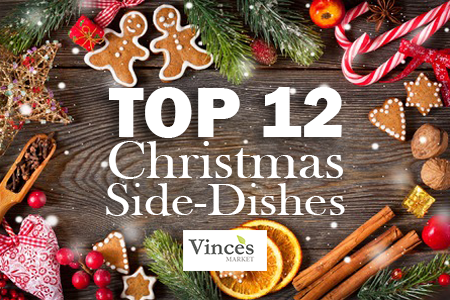 Christmas dinner is something I look forward to all year. We all know the star of the show will be turkey, ham or even roast beef.  No matter what you're having as the main dish, here are the top 12 Christmas side-dishes, appetizers and desserts I look forward to every year. I hope this list inspires you to try some of these recipes, or seek out your own!
Appetizers
1. Charcuterie Board:
It must be my Italian heritage, but I love a good antipasto platter or charcuterie board. I find it just wakes up the sense and makes for easy finger food so you can snack and chat with family and friends. For tips on creating a masterpiece charcuterie board, click here.
2. Hot Broccoli Dip
I crave this dip for every special occasion. It's a combination of broccoli, onion, red pepper, cheddar cheese, mayo, sour cream, garlic and Parmesan cheese. It's a dip made in heaven. Just make sure you sneak a bite before your guests devour it all. Click here for the recipe.
3. Vegetable Platter
The great thing about appetizers is that they don't have the be fancy, just enough to snack on and prepare for the main feast. Why not choose a healthier alternative and add a veggie tray? If you want to save time you can always check out our pre-made platters for a fresh, fast solution!
4. Shrimp Ring Wreath
When I think about Christmas parties, I always think of shrimp rings.  While I'm not sure that it's a traditional holiday item, it is delicious! To make it even more festive, you can arrange kale in a wreath shape under the shrimp and add cherry tomatoes throughout as decoration. You must try this homemade cocktail sauce!
Main Side-Dishes
5. Maple Roasted Brussels Sprouts with Bacon
Some people think they don't like brussels sprouts… but they haven't tried these! A sweet and savoury combo of maple syrup and bacon may make you forget about the turkey! Click here for the recipe.
6. Roasted Cauliflower – Vegan
For the vegan in your life, of just plain cauliflower lover, this roasted cauliflower is a crowd-pleaser, and super easy to make! You don't even need to chop the cauliflower, just season and bake the entire thing. Find the recipe here.
7. Crunchy Sweet Potato Casserole
While I've never personally tried this casserole, it is definitely on my wish list! With sweet potatoes, eggs, milk, butter, sugar, salt, vanilla, brown sugar, flour and pecans – it sounds more like a dessert than a side dish. If you too are craving this, here is the recipe.
8. Green Bean Casserole
This is another dish on my Christmas wish-list. I've been seeing variations pop up on various food networks. A savoury casserole dish of green beans, butter, onion, garlic, Portobello mushrooms, chicken broth, and topped with French fried onions. Sounds like perfection! Check out the recipe here.
Desserts
9. Brownie Trifle
My family grew up with a Scottish grandmother making a more traditional trifle. But then I found the ultimate Brownie Trifle; layers of brownies, chocolate pudding and whipped cream! How can you go wrong? Especially for the kids at the table. Click here for the recipe.
10. Dessert Platter
Everyone's sweet tooth is different. I personally love having a range of sweet options. From cookies to tiny pastries and fruit. This is one area you can save time on and shop Vince's dessert platters section.
11. Apple Pie
We all know pumpkin pie is designated to Thanksgiving, but what pie is for Christmas? I personally love a good slice of apple pie or apple crumble. This recipe adds a little dried fruit and lemon peel to make this a truly special holiday dessert.
12. Grinch Kabobs
These little Grinch Kabobs are so cute, and perfect for the little ones at the table. Combining green grapes, strawberries, bananas, and mini marshmallows on a toothpick never looked so good! Get the recipe here.
I hope you found some ideas from this list, or that it has inspired you to search for some new ideas! Pinterest is a great resource for finding new recipes. Don't forget that you can still reserve your fresh turkey for Christmas dinner online!
As always, we welcome your questions and feedback. You can leave a comment right here on the site. Or head on over and join in the conversation on Facebook (remember to 'Like' the page) and Twitter.  If you haven't already signed up to receive our weekly news delivered right to your inbox (including the blog, our weekly product feature, signup for our Coterie Program, and our recipe of the week), you will find the signup by clicking here.
Happy Holidays to you and yours!
Deanna