Appetizer & Snack Recipes, Blog Recipes, Cheese
All About Cheese: Bocconcini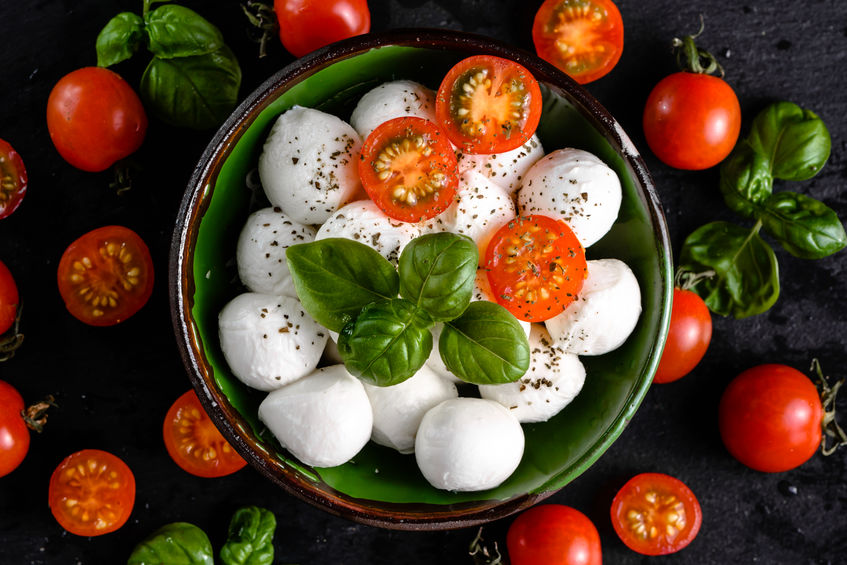 Bocconcini are small, semi-soft, rindless unriped mozzarella cheese balls about the size of an egg. Originating in Naples, Italy, they were once made only from the milk of the water buffalo, but nowadays, they are usually made from a combination of water buffalo and cow's milk. Bocconcini are packaged in whey or water, have a spongy texture, and absorb flavours.
The word bocconcini means small mouthfuls and it made in the pasta filata manner by dipping curds into hot whey, then kneading, pulling, and stretching into the familiar shape we know it by.  Baby bocconcini, also known as bambini, mini, or cocktail, can also be purchased and they are about the size of large grapes or cherries.
Their use is versatile, stemming from both the traditional and the modern. Most know the humble bocconcini from the Caprese salad, but it can be served as an accompaniment to pasta. These bite-sized cheeses have a refreshingly delicate and creamy aroma, described as very sweet with a butter taste, with an elastic texture and consistency. One can pair them with white wine such as a Sauvignon Blanc or a red Merlot.
Grilled Peach Calabrese Salad
INGREDIENTS
500 g Bocconcini, sliced
3 peaches, sliced
3 tbsp brown sugar
3 tbsp melted butter
1 tsp cinnamon
Maple syrup
Mint leaves
Pistachios, chopped (for garnish)
Pinch of sea salt
DIRECTIONS
In a small bowl, combine melted butter, brown sugar and cinnamon.
Slice peaches and brush with butter and brown sugar mixture.
Preheat grill to medium-high. Grill peaches for about 2 minutes on each side.
Slice the Bocconcini.
On a platter, alternate and overlap the cheese slices, peach slices, and mint leaves.
Season with salt to taste.
Drizzle with maple syrup.
Garnish with pistachios.
Fried Bocconcini
INGREDIENTS
2 packages of fresh bocconcini
1 cup of Italian Seasoned breadcrumbs
2 eggs
splash of milk
1 cup of flour
salt and peeper
Canola or vegetable oil, or whatever oil you prefer to fry with
INSTRUCTIONS
Lay the bocconcini out on paper towels and dry them off well. Set up a breading station with the flour in one dish, the eggs and a splash of milk in another dish and the breadcrumbs in the last dish.
Dip the bocconcini in the flour first, then the egg mixture and last coat them in the breadcrumbs. Go through all the bocconcini balls this way until they're done. Then repeat the breading process.
Lay them on a sheet pan and freeze for 20 minutes. You can skip this step if you'd like, the cheese will just ooze out a little more.
Fill a deep sided pot halfway with the oil and heat until the temperature reaches 400 degrees. If you don't have a thermometer, just throw a cube of bread into the oil after about 15 minutes. if it fries up crisp in a few seconds, you're ready to go.
Fry the bocconcini in batches so you don't over-crowd your pot and drain on a paper towel lined plate. Season with salt or parmesan cheese as soon as they come out of the oil. Repeat until all the bocconcini are fried and let rest for 5 minutes.
Serve with your favourite marinara sauce, or for a different twist, consider pesto or even a satay sauce!
Let's Connect
We'd love to hear from you! Do you love Bocconcini, or have a fantastic recipe to share?? Leave us a comment here or head on over and join in the conversation on Facebook (please 'Like' the page if you're so inclined) and Twitter. If you haven't already signed up to receive our weekly newsletter which includes our blog, the weekly product feature, the weekly Coterie savings, and our recipe of the week delivered right to your inbox, you'll find the signup by clicking here.
Let's catch up soon,
Julie