Appetizer & Snack Recipes, Beer & Wine, Drinks, Entertainment
Celebrate Mid Summer with Unique Ciders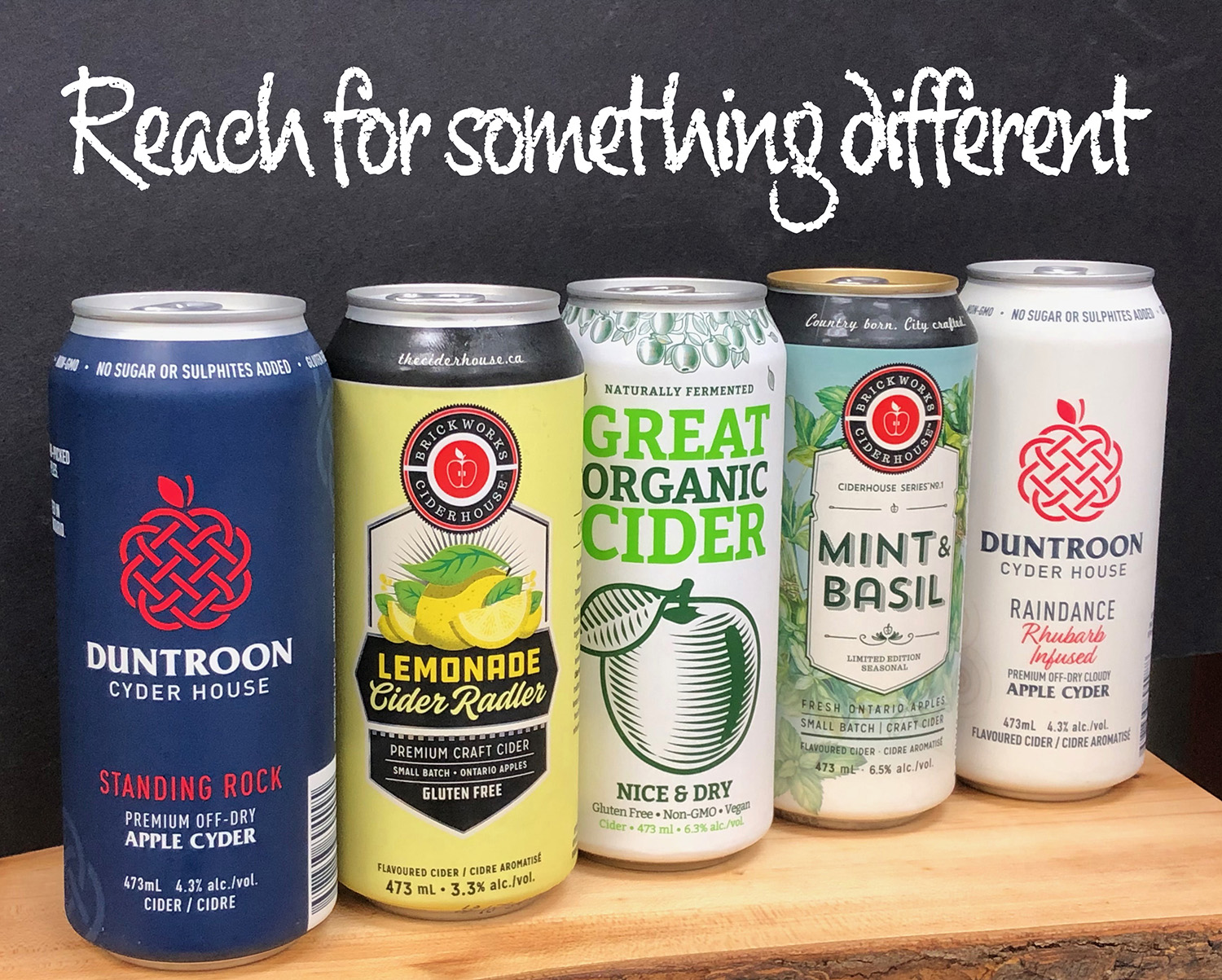 When it comes to summer beverages, I'm a fan of the offbeat. I may have grown up at a time when dad went to the beer store for the same old 'two-four' every week, but never myself succumbed to the habit.
On that note, I believe a good beverage should excite the taste buds, not put them to sleep. So, this week, I thought an eclectic sampling of ciders would be an ideal way to celebrate mid summer.
Duntroon Cyder House
Duntroon may sound Scottish, and although it does have a connection with Isle of Islay, this Ontario town is home to a craft brewer that offers two refreshing sulphite free, gluten-free and nut-free ciders made from hand-picked local apples.
If your preference is crisp and fruity – but not sweet – both of these are worth a try. Standing Rock Premium Off-Dry is best served well chilled, and delivers strong apple, with hints of butterscotch and citrus. Raindance Rhubarb-Infused, is subtle on the rhubarb, with just enough to make it interesting.
Both are nice paired with grilled sausages and creamy cheeses, and I found the rhubarb version a perfect partner to my bowl of chick pea tortillas dipped in roasted red pepper hummus.
Brickworks Ciderhouse
Closer to home, Brickworks Ciderhouse has a couple of seasonal offerings at both ends of the cider spectrum. Their limited-edition Mint & Basil Craft Cider is back by popular demand. It's made by mulling fresh mint and basil into aged apple cider, and has a fresh herbal aroma and taste, balanced by apple undertones. Great on its own, as a refreshing summer sipper.
So too is their Lemonade Cider Radler. If you enjoy lemonade, you'll appreciate this fairly sweet but refreshing cider made from Ontario heritage apples blended with tart lemon juice. It's a nice spin on a traditional radler with a cider rather than a beer base.
Once again, serve it ice cold – and enjoy with your favourite crunchy snacks.
Great Canadian Cider Company
More straightforward is this brewer's Nice & Dry Flagship Cider. It's a classic taste, with notes of pear and elderflower. Nice & Dry has a good bite, and is strongly carbonated. Serve alongside your charcuterie board, or with a slice of cheese pizza.
Of course, there are still more craft ciders, beers and radlers on our shelves to explore. Drop by for a custom six-pack (or twelve) and put together your own tasting party. We are in a 'golden age' of craft brewing in Ontario, and with so many local options, you should never be bored by what's in your glass.
We'd love to hear from you! Do you love Feta, or have a fantastic recipe to share?? Leave us a comment here or head on over and join in the conversation on Facebook (please 'Like' the page if you're so inclined) and Twitter. If you haven't already signed up to receive our weekly newsletter which includes our blog, the weekly product feature, the weekly Coterie savings, and our recipe of the week delivered right to your inbox, you'll find the signup by clicking here.
Cheers!
Neil