Chili: A Versatile Comfort Meal
Whether it's in the ingredients or what to do with them, chili is one of those meals that never has to be the same twice. Not that being the same isn't a good thing, because a great chili will always be a great chili! However, you can switch ingredients up to make each warm and comforting bowl deliciously different.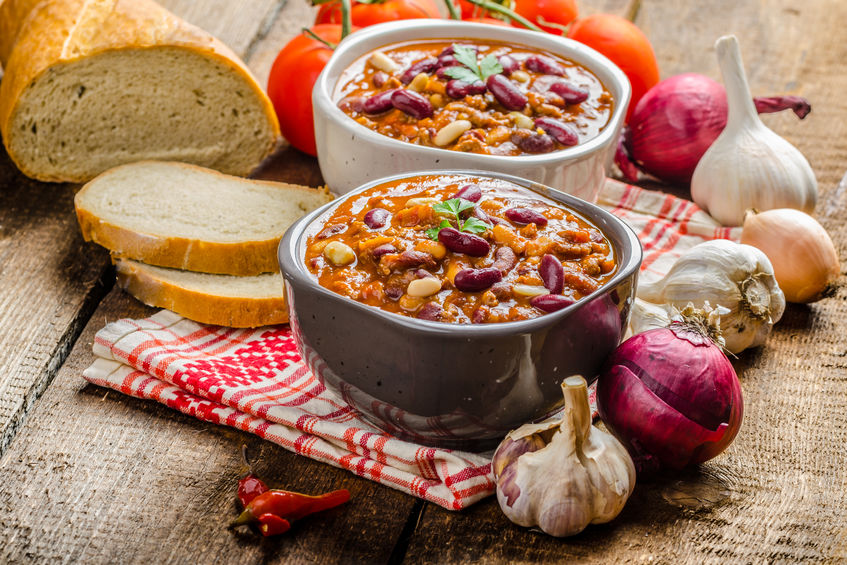 The Mythological "Best Chili Ever"
Recipes exist all over the internet claiming they're the best chili ever, but we all know the best chili is the one you make for your family. So, you could stick with the standard ground meat (whether it's beef, chicken, turkey, pork, a combination of any of the aforementioned, or maybe you go meatless), tomatoes, onions, spices, and beans. Otherwise, you could branch out a bit and add something new, or substitute something very different.
Experiment with Veggies
If you want to mix it up a bit with ingredients, try adding corn, mushrooms, or leeks instead of onions. You can even try all three at once if you're feeling a little adventurous. Each will bring a different flavor and texture to every bite. Utilizing different beans will add variants of colour, as well as taste and texture. Don't be afraid to add fruit to your chili—blueberries and cranberries are great additions to a chili. Nothing beats a sweet bite to help cool down the spiciness of any dish!
Mix Up Your Meats
When it comes to the meat you use, if you use meat, you could go with the standard ground variety and mix up the types of meats, or you could try using shredded meat. If you're interested in trying this, you just need to place portions of whatever meat you'd like to use (preferably boneless) into your chili pot or slow cooker with the rest of your ingredients. Before serving, pull out the larger chunks and shred them into smaller pieces before mixing them back in. It's a bit of a different texture than what you might be used to, but delicious all the same. For some reason, the shredded meat will soak up some of the extra liquid that may be present from the other ingredients you've chosen, making it all come together a little better.
Think Outside the Spice Box
With this week being National Bittersweet Chocolate Day, why not add a little to your chili and see if you like the flavour it adds. A little sugar may be needed but if you use a sweeter onion, and add some sweeter vegetables like corn and sweet potato, you may find that it's got the right levels of each contrast by complimentary flavour notes you need to make it perfect.
Another way to dress up your Chili is to experiment with spices and flavours. Many believe that a good Chili needs cumin and chili powder, and while I don't disagree, there are a host of other spices that will add different unique notes to the overall taste. Before you turn off your mind to the possibilities, consider adding some of these out of the box ingredients that will likely become family favourites:
Achiote
Peanut Butter
Cardamom
Smoked Chili Powders
Ginger
Sumac
Grains of Paradise
Beetroot Powder
And that's just to name a few of the possibilities. You don't need to add a lot in most cases because a little goes a long way. You will be surprised at how good unexpected combinations will taste! Don't try them all at once however, because you may end up with a hot mess that looks like chili, but doesn't taste all that good. Instead, take a few moments to decide on the flavour profile you want, and work from them.
Dress It Up!
Dressing up your chili comes with endless possibilities. You can go old school and eat your chili straight, or you could dress it up with sour cream and shredded cheese. But let's think a little outside of the box and maybe add some tortilla or corn chips, or some cubed creamy avocado on top as well. With endless possibilities, every bowl a chili will be an exciting culinary adventure!
What's your secret ingredient, or favourite way, to enjoy chili?
We'd love to hear from you! What are some of the changes you're planning to make for 2020? Leave us a comment here or head over and join in the conversation on Facebook (don't forget to give us a "like") and Twitter.
If you haven't already signed up to receive our weekly newsletter which includes our blog, the weekly product feature, the weekly Coterie savings, and our recipe of the week delivered right to your inbox, you'll find the signup by clicking here.
Let's catch up soon,
Julie