Appetizer & Snack Recipes, Snacks
Reach for Healthier Summer Snacks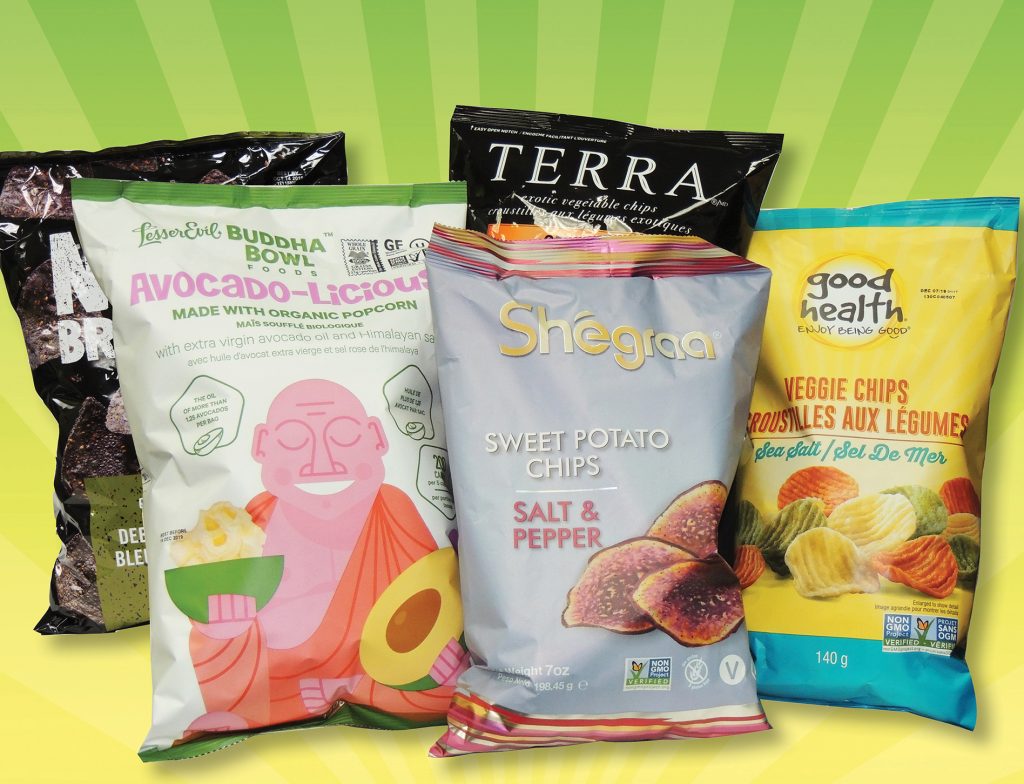 Kicking back on my deck with a glass of wine or craft beer in hand, I'm often partial to a few snacks. This usually includes a tray of cut veggies, fruits, and a few carefully selected cheeses. And, of course, something crunchy.
This can take the form of uber-salted and oiled, artificially flavoured and processed chips, something as simple as plain popcorn, or snacks derived from root vegetables and artisan grains.
I tend to reach for the healthier options, as many of these not only taste better than the alternative, but produce far less guilt.
A Few of my Favourites
Let's begin with an old standby – Terra vegetable chips. Their "original" flavour includes a medley of root veggies like sweet potato, yucca, taro, and parsnip. I like plain old sweet potato (or "sweets and beets"), which are brilliant with a cold glass of wheat beer or radler.
Another of my favourites are Harvest Snaps Green Pea Crisps. These are lightly salted, and available in flavours like Caesar and Red Lentil Tomato Basil. If you're wondering about their authenticity, they are the real deal, with the first ingredients being peas, black beans or lentils. As an added bonus, they're GMO and gluten free.
I still like the original green pea variety, which have a surprising 5 grams of protein and 5 grams of fibre per serving.
For something a little different – and really tasty – try Avocado-Licious popcorn from Buddha Bowl Foods. It's made from organic air-popped popcorn, finished with a blend of extra-virgin avocado oil, organic coconut oil, and Himalayan salt.
Good Health Veggie Chips are another light and puffy option for those who don't want to be weighed down by their snacks. These are certified gluten-free and contain no artificial colours. Potato may be the main ingredient, but the list also includes tomato, green pepper, parsley, spinach, paprika, garlic, and celery, along with nutrients derived from a proprietary blend of spinach, broccoli, carrot, tomato, beet, and shiitake mushroom.
No, these won't replace your multivitamin, but they'll go nicely with a cold pilsner.
Riceworks offers a variety of chips using whole-grain rice, sesame seeds and other gluten-free ingredients. Or grab a bag of corn tortilla chips from Neal Brothers – such as their organic blue corn with flax. These are also gluten-free, have no trans fats – and are the ideal pairing for salsa or guacamole.
Dont Forget the Dip
None of these – veggies or the chips – would be complete without a delicious dip. Healthy options are aplenty in our stores: hummus, roasted red pepper, artichoke and asiago, and our Vince's Own pico de gallo, made from fresh chopped tomatoes, onions, cilantro and more.
There's no excuse for summer snacking to be boring, or overly unhealthy. Browse our aisles and look for something new and interesting. Explore, discover and share!
Let's Connect
And speaking of sharing, let us know what you think – and send us your summer snacking ideas! Leave us a comment here or head on over and join in the conversation on Facebook (please 'Like' the page if you're so inclined) and Twitter. If you haven't already signed up to receive our weekly newsletter which includes our blog, the weekly product feature, the weekly Coterie savings, and our recipe of the week delivered right to your inbox, you'll find the signup by clicking here.
– Neil