BBQ, Food, Main Course Recipes, Meat
Vince's Summer Grilling Tips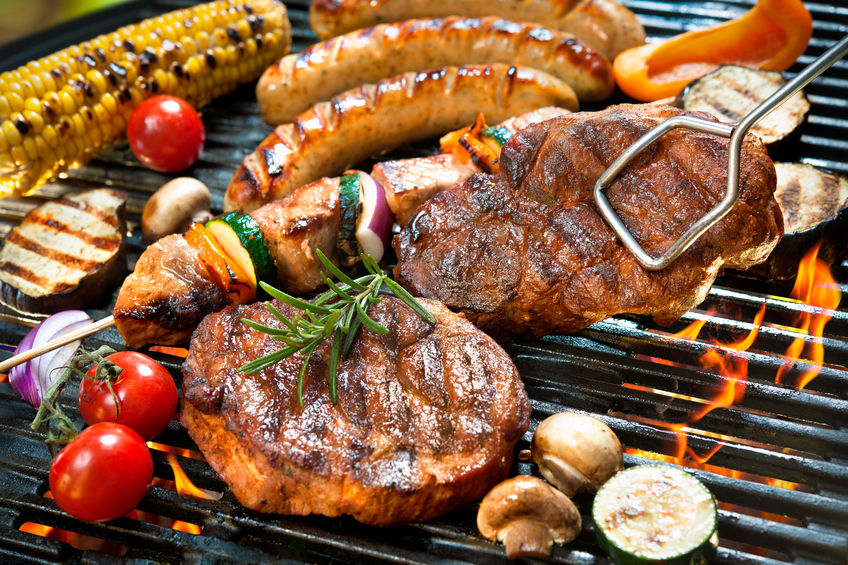 With Summer still in full swing, the grill is the go-to method for cooking for most families. Not only does it save you from turning on the oven and warming up the house, but it means you can spend a little extra time outside soaking up some Vitamin D!
Ideas for making the most of your grilling can be hard to come by, but don't worry because we have you covered! With a few tiny tweaks here and there with seasonings, there's an endless amount of possibilities just waiting to be discovered. Here are some summer grilling tips to get you started.
Fresh Fruits and Vegetables Are Great Grilled!
Whether it's corn, peppers or a combination of veggies on a skewer, grilled vegetables are a fantastic addition to any family meal. When roasted over an open flame, wonderful things really do happen, and veggies come out tasting slightly smoky with aspects of caramelization from the natural sugars – such a delight for your taste buds!
Corn on the Cob
Corn can be grilled either in the husk or after it's been parboiled. If you choose to grill it in the husk, you just need to make sure you soak the ears in water after removing all the silk. Slathered with butter and sprinkled with salt, grilled corn is a hearty addition to any BBQ meal.
Peppers
Peppers are another fantastic addition to the grill. Whether you want to grill them whole, in large slices, or as part of kabob, they taste so good with drizzled with a little olive oil and seasoned with salt and pepper or your favourite seasoning. I'd suggest starting with the skin-side down if you're doing them in large slices and turn over only for a few minutes at the end of their time on the grill. It will save the more tender flesh on the inside from getting charred and bitter.
Mushrooms, Zucchini and More!
Other good grilling staples are mushrooms, zucchini, as well as any of the delicious summer squashes like pattypans! Summer squashes can be grilled whole or cut into slices or pieces depending on your preference but can be eaten skin and all. Just season as you desire and grill away!
Grilled Caesar Salad
If you're looking for something a little more adventurous, try a grilled Caesar salad. While it sounds labour intensive, it's actually not. Just cut your romaine lettuce lengthwise into halves or quarters and grill each piece drizzled with some olive oil and lemon juice. Once grilled, the assembly of the salad is easy – just top with the standard Caesar fare and voila!
Cheese on the Grill?? Surely You Jest!
Grilling cheese can be a daunting endeavour but if you get the right cheese, it doesn't need to be. Halloumi and Paneer are two great choices as they are both firm cheeses that take on a creamy interior texture and crispy outside when grilled. Just brush with olive oil to prevent sticking and sprinkle with your favourite herbs and spices. I recommend mint, which is a little unorthodox, but such a combination for your taste buds!
Stop in to see all we have to offer for your grilling needs. At Vince's Markets, we've got you covered!
As always, we welcome your questions and feedback. You can leave a comment right here on the site. Or head on over and join in the conversation on Facebook (remember to 'Like' the page) and Twitter.  If you haven't already signed up to receive our weekly news delivered right to your inbox (including the blog, our weekly product feature, signup for our Coterie Program, and our recipe of the week), you will find the signup by clicking here.
Til next time,
Julie