Appetizer & Snack Recipes, Beer & Wine, Drinks, Entertainment
Exploring Beer: Stout, Red Ale, India Pale Ale (IPA), and Lagers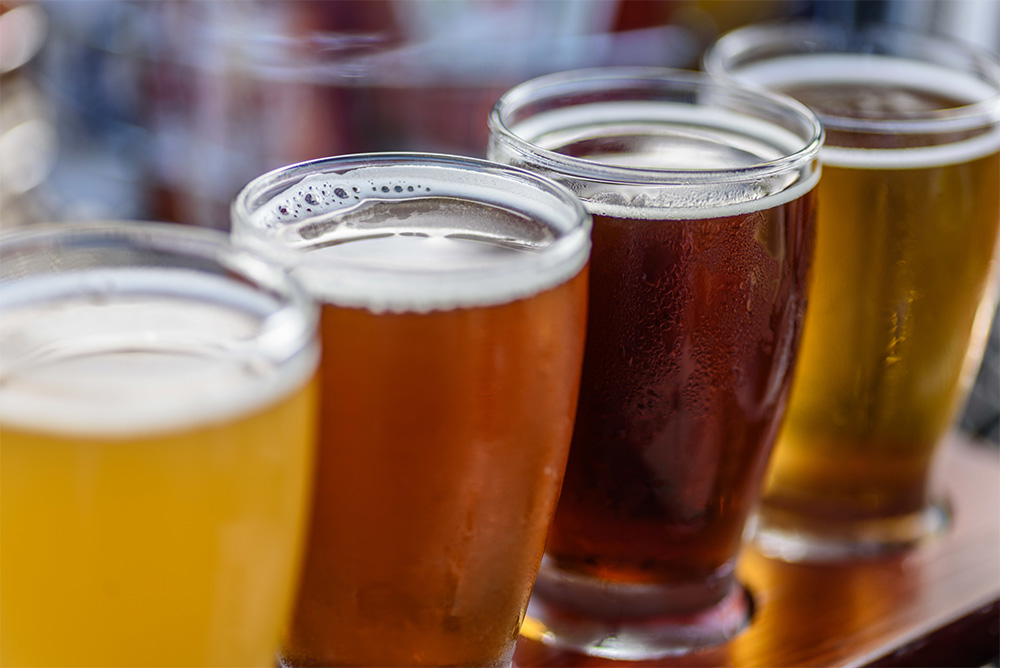 NHL playoff action begins soon, and if like me you don't have access to tickets, the best seat in the house will be your couch. Which is fine, as your fridge will be closer than the concession stand, and the beverage choices are vast.
Three of our stores (Uxbridge, Newmarket and Sharon) offer a hand-picked selection of craft beer and cider, and over the past several months, I've been posting my top picks for our fans of local brew. Here are a few, which should help you get ready for this most exciting chapter of hockey season.
Stouts:
During the colder months, I often choose something a little more full-bodied, like a dark ale or stout. A perennial favourite is Guinness, which is black, rich and creamy, and pours with a velvety head so thick you can write your initials in it. No kidding – I've done it. But not everybody is keen on sticking a finger in their pint.
It may look robust, but Guinness is anything but harsh. It goes down smoothly, complemented by a nice blend of bitter and sweet – along with strong malt, thanks to its base of roasted barley.
For a more local stout, try Bobcaygeon Brewing Company's Starry Night. It is made with chocolate malt and more than 100 lbs of locally-roasted Ecuadorian Arriba cacao nibs for a nice blend of chocolate and coffee flavours.
Red Ale:
Also local, but shifting in tone, I've recently enjoyed a trio of red ales, starting with one from Fenelon Falls Brewing Co. This one is mildly hoppy with sweet caramel notes and is great with burgers or something a little spicy. Spark House Red Ale, from Lake of Bays Brewing Co. has a deep copper colour – with flavours of toffee and a slight nuttiness. Try it with roast chicken.
Red X by Red Thread Brewing Co. is another easy-drinking red ale, also great with burgers and chicken – or nice to sip on its own.
India Pale Ale:
If you're a fan of IPA (India Pale Ale) you'll like Boxing Bruin. This bright gold, hoppy brew includes five hop varieties for citrus aromas, along with flavours of lime and mango. Great with spicy and fried foods!
More Unusual:
Here's something a little different from Second Wedge Brewing Co – it's their High Grass saison, brewed with all-natural lemongrass and whole ginger root, hand-sliced in their Uxbridge brewery. It's not a "ginger beer"; the taste is subtle, light and refreshing.
Lagers:
For a more conventional take on game-day beer, let's start with a Canadian staple – Molson Canadian. This pale lager, which contains no preservatives, pairs nicely with your favourite snacks. Another favourite is Budweiser. Also a pale lager, this one is a natural match to your plate of nachos.
How about a couple of craft options? Mildly hoppy, Ace Hill Vienna is another easy drinking lager that delivers notes of light malt and citrus. A newer addition to our shelves is Hockley Brewing Co. Classic Lager. It's smooth and refreshing, the ideal accompaniment to something smoky or zesty – like a pulled pork sandwich or bowl of chili!
Non-Beer Options:
Not everybody is as enthusiastic about beer as I am. For them, cider is a great option – and here are a few I've sampled:
Shiny Apple Cider: Made with shiny Ontario apples – nine varieties – It's naturally sweetened, gluten free and vegan friendly. Best of all, it's dry, crisp and bursting with ripe apple flavour.
Strongbow's Original Dry apple cider is also crisp and refreshing and offers aromas of apple (of course!) along with brown sugar and cinnamon. Try it with Tandoori chicken.
Ernest Cider's Winter's Blush blends local apples, cranberry and honey, and delivers flavours (and aromas) of cinnamon and clove. It is a delight with mild cheeses.
A nice change from apple is Stadium Island Peach Cider. This semi-sweet brew has the aroma of freshly-cut peaches and is slightly tart with an apple undertone.
And don't get me started on Radlers, which are a citrusy spin on beer that have fans in both the beer and cider camps. But that's a topic for another week – perhaps as we shift into barbecue season.
We'd love to hear from you! Do you have a special food tradition you observe on a specific day, or have a fantastic recipe to share?? Leave us a comment here or head on over and join in the conversation on Facebook (please 'Like' the page if you're so inclined) and Twitter. If you haven't already signed up to receive our weekly newsletter which includes our blog, the weekly product feature, the weekly Coterie savings, and our recipe of the week delivered right to your inbox, you'll find the signup by clicking here.
Go grab your favourite pint and, Go Leafs Go!
–Neil