Power Up Approved Healthier Super Bowl Snack Recipes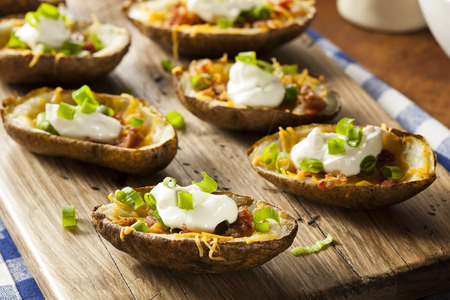 The Super Bowl is one of the biggest calorie fests of the year. Whether you're a football fan or not, most people end up celebrating in one way or another and enjoying some good eats. While I love indulging from time to time I still manage to find some balance. I've just reached a point where I just don't enjoy going completely over board and neither does my body.
Here are a few of my favourite Power Up Approved Healthier Super Bowl Snack Recipes worth adding to the spread. Enjoy!
Buffalo Cauliflower Bites 
Ingredients:
Batter:
½ cup whole-wheat flour
½ cup water
2 tsp garlic powder
Pinch of salt and pepper
Bites:
½ head of cauliflower, cut into large florets
½ cup favourite hot sauce
2 tsp butter, melted
Crumbled blue cheese (for garnish)
Fresh dill sprigs (for garnish)
What to do:
Mix batter ingredients until no lumps.
Add cauliflower to batter, drain, and then arrange on a baking sheet making sure no pieces' touch.
Bake at 400 F for 15 minutes.
Remove from oven and toss cauliflower in hot sauce and melted butter.
Return to oven for 5 minutes.
Remove from over, garnish with blue cheese and dill and serve.
Loaded Potato Skins
Ingredients:
8 (about 3-inch-long) russet potatoes, scrubbed and dried
2 Tbsp unsalted butter, melted
Sea salt and fresh ground pepper
2 cups shredded sharp cheddar cheese
5-6 slices cooked bacon or pancetta, crumbled
1/3 cup sour cream
1/3 cup guacamole
2 Tbsp fresh chives or herbs of choice, chopped
What to do:
Heat the oven to 400°F and arrange a rack in the middle.
Prick potatoes several times with a fork or sharp knife.
Place the potatoes on foil lined baking sheet and roast until soft when squeezed and skins are crisp, about 50 minutes.
Remove from oven and let cool.
Heat broiler to high.
Meanwhile, halve potatoes and scoop out flesh (save for another use) leaving about 1/4 inch intact.
Brush both sides of the potatoes with butter and season with salt and pepper.
Return to over, and broil, turning once, until the butter foams and the skins start to crisp, about 3-5 minutes per side (careful not to burn).
Evenly fill each skin with cheese and crumbled bacon. Broil until the cheese is melted, about 2-3 minutes.
Remove from the broiler and top each with 1 teaspoon of the sour cream and guacamole, sprinkle with fresh chives. Serve immediately.
Here are some other healthier alternatives for Super Bowl snacks.
What are some of your favourite healthier Super Bowl snack recipes?
Our Power Up Mission is simply to educate our customers on the importance of using quality food as fuel.  For all your Power Up news make sure you check out Vince's Facebook, Instagram, and Twitter.  Also make sure to follow @VincesMarket and #powerupwithvinces, sign up for our Power Up Newsletter and keep an eye out for nutrition tips and tricks from me, our in-house nutrition expert!
To our health & wellbeing,
Danielle