Appetizer & Snack Recipes, Blog Recipes, Cheese, Food, General, Snacks, Soup & Salad Recipes, Vegetarian Recipes
All About Cheese: Sheese Vegan Cheeses!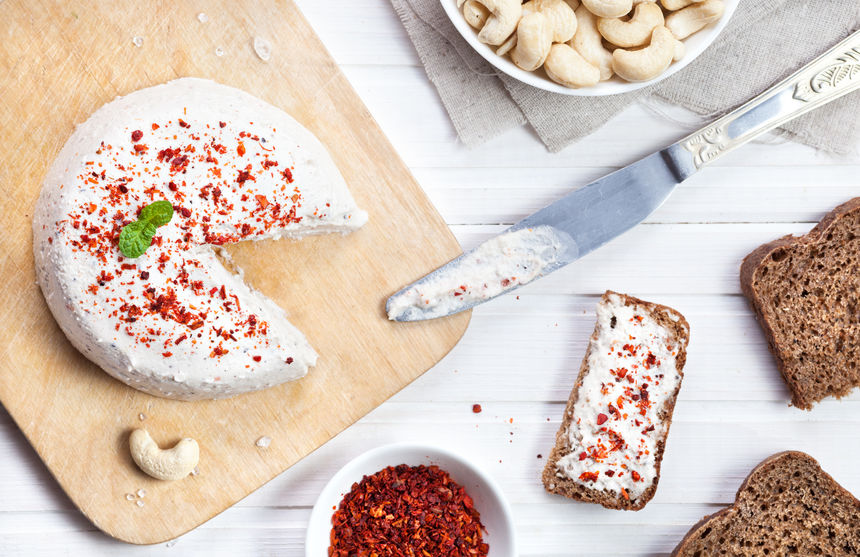 Cheese is delicious—there's no denying that. But some people choose to consume and use products that are not animal based. Unfortunately, that means cheese is off the table for many who follow a vegan lifestyle.
Not any longer! Sheese Vegan Cheese is currently available at all our Vince's Market locations.
About Sheese Vegan Cheese
Made at Bute Island Foods, they're one of the UK's leading manufacturers and suppliers of dairy, lactose and gluten free vegan cheese products. The Sheese range is award winning, and they're proud to say that all their products are certified Vegan, and most are Kosher.
The production process is also completely animal free in their dedicated Free From Factory on the Isle of Bute in Scotland, with everything done to the highest ethical standards.
The range is extensive with options including hard varieties, creamy spreadable varieties, shreds, slices, and wedges. And the flavours are amazing—they've thought of all the varieties and engineered the flavours into the vegan alternative. From a block of Red Leicester style, to Gouda and Greek styles, they've even got flavoured cheddar style sheeses as well. The creamy spreads, slices, wedges, and shreds also come in fantastic flavours for any use you can think of. They even have a Blue style!
In fact, check out this savoury recipe for a spin on the classic Broccoli soup!
Blue Sheese and Broccoli Soup
Ingredients
200g block of Blue Sheese
4 small potatoes
2 large head of broccoli
2 medium onions
3 pints of vegetable stock
2 tablespoons of vegetable oil
Salt and Pepper to taste
How to Prepare
Peel and finely chop the onions, peel and dice the potatoes. Chop the broccoli including the stalks.
Fry the onions for a few minutes in a large pan until soft. Add the chopped potato, broccoli and stock. Bring to the boil and cook for 15-20 minutes until the vegetables are soft.
Take off the heat and stir in grated Blue Sheese. Allow to cool a little and then liquidize.
Return to the pan, adding a little soya milk if required. Warm through and season to taste.
Serve with warm crusty baguettes and enjoy!
You can even make sweet treats with Sheese—check out this delicious recipe!
Chocolate Banana Sheesecake
Ingredients
For the base
75g rolled oats
2 tablespoons coconut oil
2 tablespoons maple syrup
1 tablespoon nut butter
For the cheesecake filling
1 tub Bute Island Creamy Sheese – Original
1 large banana
3 tablespoons cacao or cocoa powder
4 tablespoons maple syrup
1 teaspoon vanilla extract
For the raw chocolate drizzle
1 tablespoon coconut oil
1 tablespoon maple syrup
2 tablespoons cacao or cocoa powder
How to Prepare
First make the base: Place the oats in a bowl. Gently melt the coconut oil, maple syrup and nut butter then pour in and mix to form a flapjack mixture.
Press into the base of a 12cm loose-bottomed cake tin, set aside.
Now make the filling: Simply place all the ingredients into a blender and whizz up until thick and smooth. Pour this over the base and spread out evenly. Freeze for at least 4 hours.
Make the raw chocolate drizzle: Gently melt the coconut oil and maple syrup then whisk in the cacao/cocoa powder to form a sauce.
Remove the cheesecake from the freezer and remove from the tin and drizzle over. Either slice up and serve or place back in the freezer until ready.
We'd love to hear from you! Are you vegan and love Sheese, or have a fantastic recipe to share?? Leave us a comment here or head on over and join in the conversation on Facebook (please 'Like' the page if you're so inclined) and Twitter. If you haven't already signed up to receive our weekly newsletter which includes our blog, the weekly product feature, the weekly Coterie savings, and our recipe of the week delivered right to your inbox, you'll find the signup by clicking here.
Let's catch up soon,
Julie