Community Programs, Contests, Entertainment, Food, Holidays, News, Vince's Cares, Vince's Own
Vince's Annual Twelve Days of Giveaways Starts Today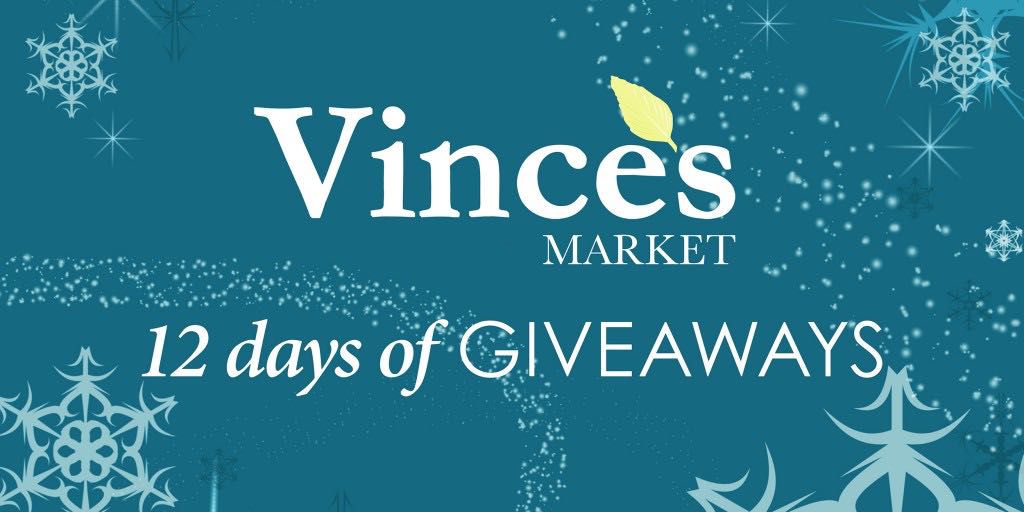 Back by popular demand is our annual "12 Days of Giveaways" Contest!
No, we're not featuring luxury homes or Lamborghinis, but our customers do enjoy dining. And on that note we will be offering prizes that not only taste good but demonstrate good taste.
How to Enter
Here's how it works. Drop by one of our locations and fill out a ballot – one per customer per shopping trip. You can enter as many times as you like in store. You can also enter online, but the limit is one entry per person for the duration of the contest. Click here to enter.
Entries will be accepted until November 30, after which we'll start drawing winners from December 3-14.
What Are the Prizes?
Everyone's asking, what are the prizes?!
Our Day One prize, is a gift basket filled with hearty Vince's Own soups, along with some crusty Ace Baguettes. I can't think of a better Sunday lunch as the temperatures dip!
Day 2 could set you up nicely for Christmas. One lucky entrant will receive a Vince's Own cooler bag filled with a fresh turkey and all the trimmings. This includes items like stuffing, cranberry sauce, potatoes, a pumpkin pie with real whipped cream, and more. You'll still have to do the cooking, but we're providing a pretty good start!
And there's more than just food prizes, as we're giving away a selection craft beer and cider on Day 6, and an Apple Watch – to look 'top notch' – on Day 12.
The full rules and regulations are posted on our website. Please keep in mind you'll need to be 18 or over to claim prizes that don't involve alcohol, and 19 or over for those that do. And there's no purchase necessary to enter.
Giving Back to Our Communities
Christmas is the season of giving and, although we have a year-round program to support hospitals, charities, food banks, sports teams and more – including our new-for-2018 Community Product Initiative – we also like to support our customers.
"Twelve Days of Giveaways is about increasing the holiday spirit in our stores" said Giancarlo Trimarchi, partner, CFO and controller at Vince's Market. "It's an opportunity to give back to our customers during the holiday season, and express how much they truly mean to us!"
As always, we welcome your questions and feedback. You can leave a comment right here on the site. Or head on over and join in the conversation on Facebook (remember to 'Like' the page) and Twitter.  If you haven't already signed up to receive our weekly news delivered right to your inbox (including the blog, our weekly product feature, signup for our Coterie Program, and our recipe of the week), you will find the signup by clicking here.
Good luck!
– Neil